Students can buys words from a vending machine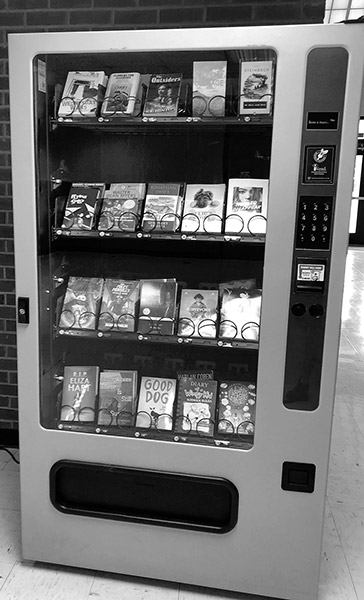 In the abbreviated words of Mark Twain, "All ideas are second hand."

Clinton Middle School graphic arts teacher, Angela Whitley, is no stranger to scouring the internet for some of these innovative ideas.

Earlier in the school year, she brought the idea of a book vending machine to academic coach, April Meyers. Knowing that the novelty of a vending machine that dispenses books would be a great addition to their literacy program, Meyers set to work on emailing vending machine companies in the East Tennessee area.

"I really didn't have high hopes for anything spectacular. I would have been thrilled with some obsolete machine that had been sitting in a warehouse for a decade," said Meyers.

But this isn't what Dan Watson of Five Star Food Service had in mind. After a few emails back and forth, Meyers received an email stating that the machine was to be delivered.

On Wednesday, Jan. 30, an LED, digital vending machine was delivered and donated to Clinton Middle School.

Meyers stated, "Not only did they deliver and install it, but they spent time helping me set it up and teaching me how to work the machine so that we could keep it going for years to come."

Right now, all of the vending machine books are being searched out from donations with the help of librarian Janine Brewer, but Meyers plans to use all the funds generated by the machine to buy more books when donations get slow.

Not only will students be able to buy books for $1, they'll also use the machine as an incentive for the CMS Forty Book Challenge, providing dollars to students who've reached a reading goal so they can get their next book to read!

If you would like to donate books for the CMS Book Vending Project, please contact April Meyers at ameyers@acs.ac.