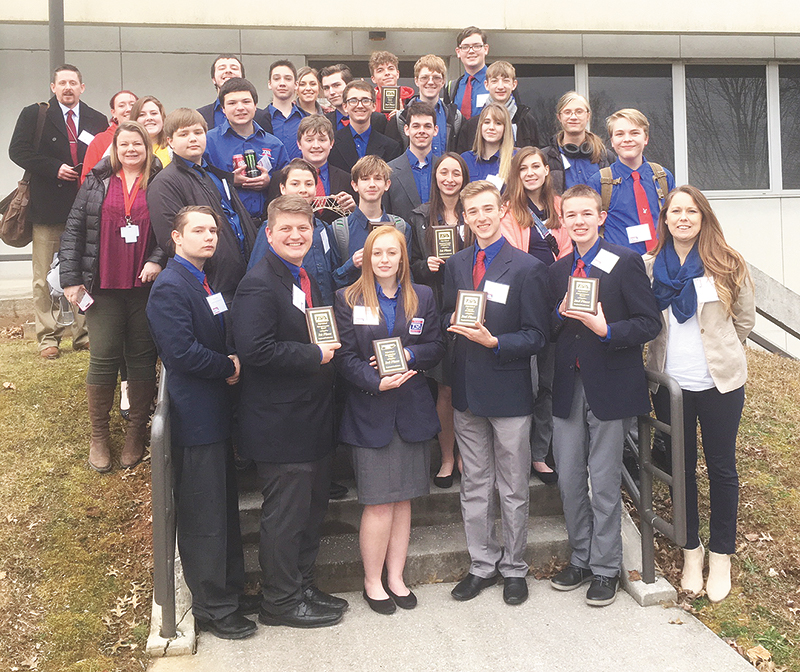 While many people across Anderson County were still sleeping early on the morning of Feb. 1, students in the Technology Student Association (TSA) from Norris Middle School and the Anderson County Career and Technical Center were loading a bus for the regional TSA conference.

The TSA club is an extracurricular organization focused on student-led projects that engage students in various problem solving and critical thinking activities with the goal of helping these students kindle an interest in STEM careers.

This regional conference was held at the Roane State Community College in Harriman.

Led by ACCTC teachers Daphne Douglas, Chrystal Freyre, and Josh Reid, 29 ACCTC students competed in this conference, while NMS teachers Sarah Birge and Madison Jones brought eight students from Norris Middle School.

The following ACCTC students placed in their competitions:

3rd Place, Biotech - Brandon Britton, Chris Cannon, Micah Jones, Molly Williams

2nd Place, Board Game Design - Foust Haverkamp, Philip Hamner

2nd place, Children's Stories - Annie Douglas, Cori Strike

1st Place, Extemporaneous Speech - Chris Cannon

2nd Place, Extemporaneous Speech - Gabe Watson

2nd Place, Forensic Science - Travis Foust, Samantha Wilson

2nd Place, Prepared Presentation - Parker Owens

1st Place, Structural Design - Matthew Bell, Kaitlyn Payne

2nd Place, Tech Problem Solving - Nicholas Harshbarger, Jack Hyden

The following Norris Middle School students placed in their competitions:

2nd Place, Career Prep - Rachael Taylor

2nd Place, Forensic Technology - Essie Haverkamp, Rachael Taylor

1st Place, Problem Solving - Essie Haverkamp, Malon Haverkamp

3rd Place, Problem Solving - Ethan Brown, Kendall Null

In April, these students will be competing in the State TSA Conference in Chattanooga, with hopes of qualifying for the national competition.