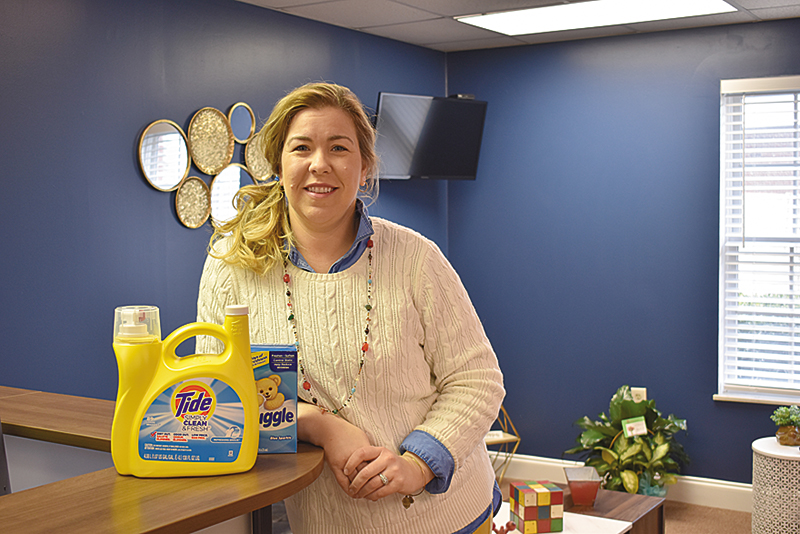 Carla Burroughs, owner of new-to-Clinton title company Genesis Title, is launching a new project for students called 'Washed in Love.'

Burroughs saw a story on a local news station about a school that did laundry for students who didn't have a washer and dryer at home. She immediately knew that was something she wanted to offer Clinton students, even though she wasn't even sure there was a need.

But, she knows it was a need she once had.

Burroughs and her three younger siblings were raised by their mother, and there wasn't always enough money for the laundromat.

Especially after the middle of the month.

"That's when the benefits ran out," she said.

She remembers rinsing out clothes by hand in the tub and hanging them out to dry, but she went to school in dirty clothes fairly often.

"We didn't have that many clothes anyway," she said.

She remembers going to her grandmother's house on some weekends, and her grandmother would wash her clothes for her. When she got home, she would untie the bag and breathe in the scent of the fresh, clean laundry.

"So this is also in memory of her," she said.

Her grandmother passed away in October.

She and her staff at Genesis Title have received what they believe to be confirmation over the last few weeks— they're finding quarters everywhere.

"Just laying around!" she said.

One young lady who is a student at Clinton High has already reached out to her and asked if she could use Washed in Love for herself and her two younger siblings.

"It breaks my heart that she has that worry," Burroughs said.

She wants students to know that no matter what their circumstances are, if they work hard and stay focused, they can do whatever they want to do and be whoever they want to be.

She will work with schools to determine which students they can help and aren't working with the public at this time.

"This is us listening to our hearts," she said. "We'll have to work all the kinks out, so we'll select the children that need that service and just allow them to bring in some laundry."

To donate detergent, dryer sheets, black trash bags or quarters, bring them to Genesis Title, located at 125 Leinart St. in Clinton.

They are also looking for volunteers.