Commemorative event planned to honor Clinton 12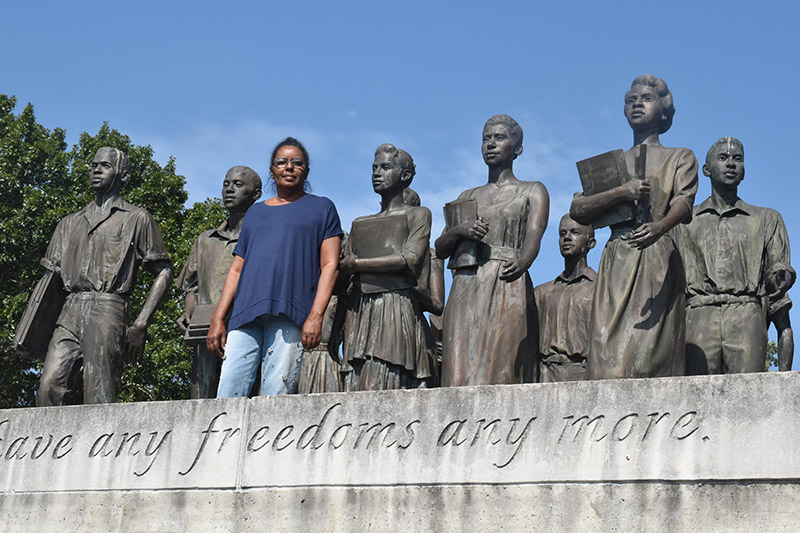 More than 60 years ago, 12 African-American students walked from what is now the Green McAdoo Cultural Center down the hill to Clinton High School.

On Aug. 26, surviving members of the Clinton 12 will once again walk or drive down that same hill.

Green McAdoo Executive Director Marilyn Hayden said that she appreciates the fact that it's not just the city that wants to do this, but the whole county.

"It means a lot that they feel like it's important to remember that kids had to walk down that hill to go to school, and to keep others coming right behind them," Hayden said.

Her brother, Ronald Hayden, was one of those students.

"They had to keep going no matter what they faced," she said, "just so everybody had an opportunity for an equal education. It's good that they're getting recognized — they're getting up in age. We've already lost four. If you're going to do it, now is the time to do it. There's no need to wait."

The event is being organized by Democrats, Republicans, three different cities, young and old, and people from all walks of life, according to Anderson County Mayor Terry Frank.

"This is proof that we can all come together," said Frank. "Maybe this is how it has to be done. We can unite and do it one community at a time."

A painful history

It all began in 1956, a year before Arkansas's "Little Rock 9" integrated Central High School. Clinton High was the first desegregated high school in the South.

And yet, no one really talks about it.

For a long time, it wasn't a publicly celebrated part of the city's heritage. It was a very intense period of time. There was a lot of opposition — some of it from outsiders who came to Clinton to protest desegregation — and death threats were made against the lives of the young students.

It wasn't until 2006 — 50 years after those events took place — that the Green McAdoo center opened. Green McAdoo was the original location of the then all-black school in Clinton. It is now a museum and cultural and educational center that teaches the story of desegregation in Clinton.

When Alfred Williams, one of the Clinton 12, passed away in March of this year, the Anderson County Commission presented a proclamation in honor of him. Commissioner Catherine Denenberg inquired whether there had ever been a proclamation in honor of the other 11.

"In talking with some of the older commissioners, I found out that, no, it had not," Denenberg said. "So, I thought that before we lose anymore, we really need to do something to honor them."

Members of the original Clinton 12 include the late Maurice Soles, Anna Theresser Caswell, the late Alfred Williams, Regina Turner Smith, William R. Latham, Gail Ann Epps Upton, the late Ronald Gordon "Poochie" Hayden, JoAnn Crozier Allen Boyce, Robert Thacker, Bobby Cain, Minnie Ann Dickey Jones, and the late Alvah McSwain.

She spoke with Commission Chairman Tracy Wandell, who sits on the board of the Green McAdoo center, and he agreed that something should be done. Frank and City of Clinton Mayor Scott Burton all agreed as well.

"The City of Oak Ridge and the school administrators, everyone was on board," Denenberg said. "So, let's do it."

The Anderson County NAACP and the Oliver Springs Mayme Carmichael School Foundation have also been involved in the planning.

"The strength it must have taken to walk down that hill amid the vile comments must have taken a tremendous amount of intestinal fortitude," said Denenberg. "We don't need to be forgetting."



A hopeful future

Frank said that the walk will honor those who experienced the pain of that time, but she hopes it will also serve as a unifying day.

"Maybe we need to do more events like this," said Frank, "reminding ourselves of how far we've come and how united we really are. We just kind of get wrapped up in a false view of each other. The further we get into the virtual world, the easier it is to segregate ourselves.

"We only read the news we want to read and only talk to the people we want to talk to."

She said looking at events like desegregation in Clinton, and a recent trip to the Holocaust Museum in Washington, D.C., are stark reminders of what we are able to convince ourselves of as "right."

"We need to be on guard — to know that this is what even I am capable of," she said.

The commemorative walk is being promoted by the Anderson County Tourism Council. Tourism Director Stephanie Wells said that there are eight remaining members of the Clinton 12, and hopes that most of them and their families will be in attendance. Clinton Middle and High School students will line the road on Broad Street and Hicks, and the public is invited to attend as well.

Parking is available behind the Clinton Community Center.

There will be a program at the middle school after the walk, where the Clinton 12 will be honored and presented with a proclamation from the state, the county and the cities of both Clinton and Oak Ridge.

Sen. Lamar Alexander and other state officials will be present.

Former Clinton councilman Jerry Shattuck, who was a white football player at Clinton High during the time the school was integrated, will facilitate an interview, according to Wells. The whole point is to honor the remaining members of the Clinton 12 for their bravery.

The event is a collaborative effort with the Anderson County Mayor's Office, the Anderson County Commissioners, Anderson County Schools, City of Clinton, City of Oak Ridge and Green McAdoo Cultural Center, according to Wells.