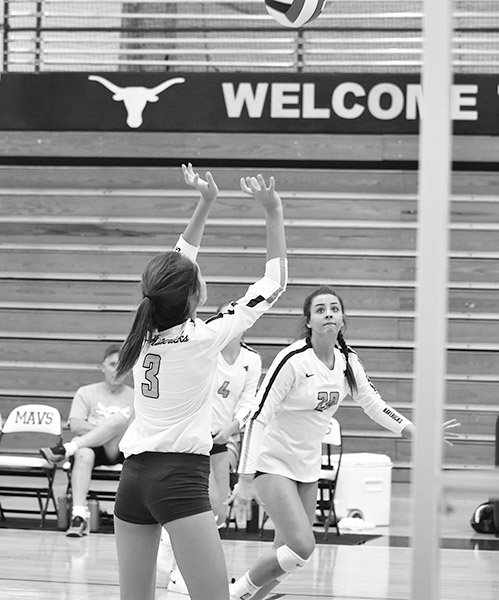 On Thursday, Aug. 8, Anderson County's Girl's Volleyball played Karns in a pre-season scrimmage. It is one of the youngest teams that AC has ever fielded, without even a single senior.

AC won all five sets.

Karns played well. In fact, they set up their shots incredibly well. More than once, though, they had beautiful set-ups, only to spike the ball into the net, hit it out of bounds, or, on a few occasions, completely the wrong way. Their ball-handling errors added up over time, though, and ultimately lead to their losses.

Both teams played incredibly hard, with some incredible jousts and knuckle-biting plays. Despite the one-sided nature of the game, it was still a blast to watch, and show just how much promise this year's Lady Mavs team holds.

Dale Cantrell, the assistant coach of the Lady Mavs, was very pleased.

"We were really pleased. As a coaching staff, this is the youngest team we've ever fielded. Karns is a well-coached team and they didn't give us any trouble at all. Once we get the younger players settled in, we're going to look even better, but for this time of the year, we look fantastic.

The Mavs didn't just look good, though. Statistically, their numbers were phenomenal. Their hit to error percentage was less than 10%, which, against a AAA team like Karns, and without a single senior on the team, is amazing.

This win for the Mavs comes on the heels of their successful attendance at a volleyball camp at Appalachian State, where they went undefeated, beating out both the Virginia and North Carolina 2018 State Champions.

Still, Cantrell said there is always room for improvement.

"We need to work on talking more.

"There were times we were quiet on the court, not communicating the movements of the other team, so we need to work on that, and work on our movement from offense to defense."

Anderson County held their annual Maverick Roundup on Saturday Aug. 10, where area schools come together at Anderson County High School, Norris Middle School, and Clinch River Community School for a day of volleyball where there is continuous play at each of the three courts from nine in the morning to five in the evening.

Anderson County's first game of the season will take place on Aug. 20 at Maryville.