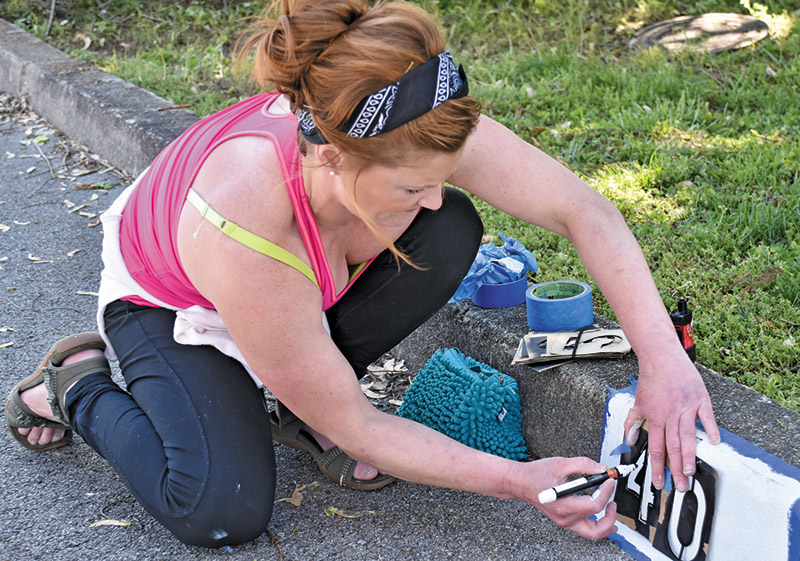 Ellie Paynter was laid off from her job at Blackberry Farm at the start of the coronavirus shutdown, so she has come up with a plan to make some extra money while waiting out the crisis at home in Clinton.

She has started a small business called Paynter's Painting, with a very narrow focus. She's not painting houses – it's not that kind of painting. She's not painting landscapes or portraits, because it's not that kind of painting, either.

Her kind of painting actually falls somewhere into the cracks between the two genres. Almost literally.

She's taking stencils and paint brushes, and for $20 for each house, she's painting people's house numbers on their curbs. The service is designed to help first responders, such as EMS, fire and police, along with delivery drivers to find people's homes easier and quicker.

"I did this some while I was in high school, and it's actually kind of fun," Paynter said Friday as she painted black numbers on a white-painted rectangle on the curb in front of a home on Riverside Drive.

"I just started about a week ago going from door to door to offer this service, and so far I've had about a 60 percent success rate," she said.

She began in the area around her home, on nearby Greenwood Avenue, and has expanded out onto Riverside, she said.

By Friday afternoon, she had painted the numbers in front of a total of about 50 houses, Paynter said. She's also doing some calligraphy work, such as painting people's names on their mailboxes in fancy letters.

"It's keeping me from getting bored, and the money will definitely come in handy," she said.

There are others throughout the area coming up with their own unique or innovative ways to make money during the shutdown, such as one artist who is doing frameable drawings or paintings of people's pets from photographs.

Others are making designer soaps, candles and other crafts that can be sold during the shutdown.

Paynter said she might continue her little industry even after she goes back to work.

"It's something people seem to appreciate," she said.