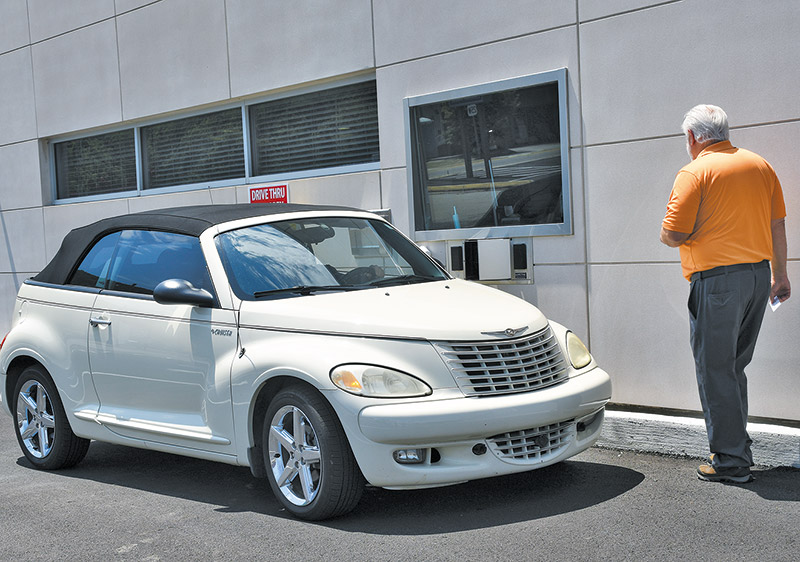 There's a new way to pay natural-gas bills at the Powel-Clinch Utility District office in Rocky Top – without getting out of the car.

PCUD this month opened a drive-up window similar to what banks and some local pharmacies have, with a secure glass window and slide-out payment tray.

Rob Neil, PCUD's president, said the utility had been planning to install a drive-up window, but that it probably wouldn't have been until next year.

But COVID-19 pushed the plans forward, Neil said.

"We went ahead and put it in now because of COVID, to protect our customers and our employees," Neil said.

"We had plans to do it within the next year or so, but we just moved it up."

He said the utility also has an office in LaFollette, which has always had a drive-up window.

"It was a former bank building, so the window was already there," he said. "The majority of the business there goes through the drive-through."

PCUD constructed its headquarters building on First Street in Rocky Top in 1999, and decided at the time to leave off a drive-up window, Neil said.

"I think they wanted the foot traffic in the building to get people to look at the [gas] appliances [for sale]," he said. "We have debated putting in a drive-through for some time because of weather, or people having kids in the car when they come to pay their bills."

Customers can also pay online without any convenience fee, he added.

The lobby is still open for those who want to come inside to do business, with social-distancing measures and other COVID-19 protections in place, Neil said.

"We reopened the lobby in May," he said. "We used to have a lot of people to come inside to pay. But with the virus, most people have been using the payment drop.

"Still, a lot of people like to get a receipt, and they can do that at the drive-through."

PCUD has about 10,000 customers from Oliver Springs through Clinton, Norris and all the way to LaFollette, Neil said.

The drive-up window is open the same hours as the lobby at the Rocky Top location – 8 a.m. to 4:30 p.m. Monday through Friday, he said.