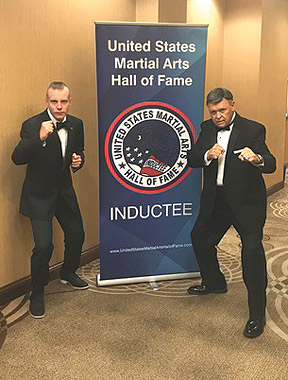 On Saturday, July 20th, Lucas Heaton was inducted into the United States Martial Arts Hall of Fame as Black Belt of the Year. In 2018, he received the award for Teen Black Belt of the Year.

The stated mission of the United States Martial Arts Hall of Fame is to honor those martial artists that have truly made a profound difference in the community of martial arts.

He's now a student at the Pete Mills School of Karate and Jiu-Jitsu. Grand-Master Pete Mills was also honored at the event with a lifetime achievement award, as well as two other students, Conner Estes and Pete Mills' son, Todd Mills.

The ceremony took place in Louisville, KY. John Terry, the president of the Hall of Fame, presented each student's accomplishments to the audience individually before bringing them on stage to present their award.

Roughly 300 guests attended the ceremony.

The hope, according to a press release from the Hall of Fame, is that the celebration will result in lifelong friends being made, and create a space where camaraderie is enjoyed and the martial arts are celebrated.

Lucas, now 15, started in martial arts when he was five.

"Well, I just thought it would be fun to do it, but there was actually this bully at church," said Heaton.

"He just kept picking on me all the time. So my parents put me in the classes so I could learn to defend myself."

Apparently it worked. Lucas said he can't remember ever really being picked on again.

"We wanted him to learn how to defend himself," said his mother, Debbie Heaton.

"We were getting a gym membership and they offered the classes, so we thought why not."

She never guessed he would excel so quickly in it.

"The hardest part of getting to black belt was just learning all the katas," said Lucas. "You've got stand-up katas, ground katas, weapon katas.

"Probably 18 to 20 katas in total. It's a lot to know."

Now that he's achieved the rank of black belt, Lucas wants to achieve his second degree so that he can get his teaching certificate.

He won't be able to do that until he turns 18. The highest rank possible is 10th-degree, at which level one becomes a grand master.