Howser scores career high; Dragons couldn't find charity stripe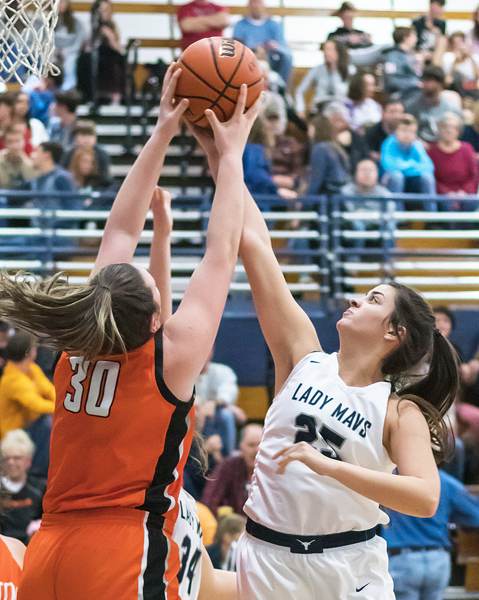 Clinton's Abbie Stinnett and Anderson County's Jayce Braden battle for a rebound Friday night. - David Woods

Regardless of which side of "the bridge" your loyalty lies, there is one inevitable truth: Both Clinton and Anderson County High Schools have talented, exciting basketball teams.

This past Friday, Anderson County hosted cross-town rival Clinton. Before the 6 p.m. tipoff of the ladies' matchup, the bleachers on both sides of Anderson County's hardwood were packed.

The host Lady Mavs would win 69-57, while the Mavs took a hard-fought 58-57 victory.

Supporters who witnessed both games were treated with up-tempo, intense contests. Both boys and girls teams from the two respective schools have different styles of play, are good at what they do, and are filled with athleticism.

The Anderson County Lady Mavs (6-0, 2-0) quickly realized that their rivals would be a challenging test. The Clinton Lady Dragons (3-3, 1-1) battled, and kept the Lady Mavs within reach.

However, Anderson County would pull away in the second half behind the career high of sharp shooting senior guard, Maci Howser. Howser's 27 points would lead the Lady Mavs to the win over Clinton — Anderson County's second District 3-3A win.

"Having a game like that is more than special, because the whole team has worked so hard to get where we are at," said Howser.