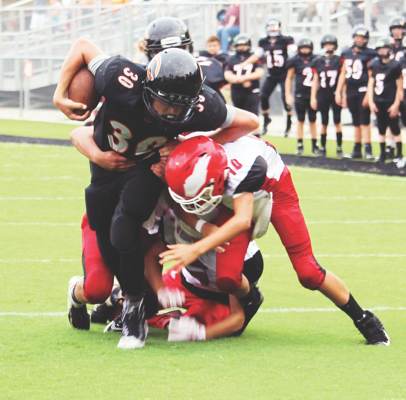 Andrew Meier (30) of the Clinton Middle School Hawks drags Loudon defenders across the goal line on his way to the opening score of the game last Thursday.

The Clinton Middle School Hawks opened the 2018 season with a big 16-0 shutout win over the visiting Loudon Redskins.

The first quarter saw both teams exchange possessions and field position. Both teams suffered through the typical first game problems as penalties helped killed drives for Clinton and Loudon.

Early in the second quarter, the Hawks took possession at their own 44-yard line after forcing the Redskins to turn the ball over on downs.

At that point the legs of Andrew Meier, along with the blocking up front of Caleb Cook, Tommy Clark, William Taylor, Bull Goodman, and Riley Webb, took over. The Hawks marched 56 yards in 10 plays. The drive concluded with a one-yard touchdown plunge from Meier.