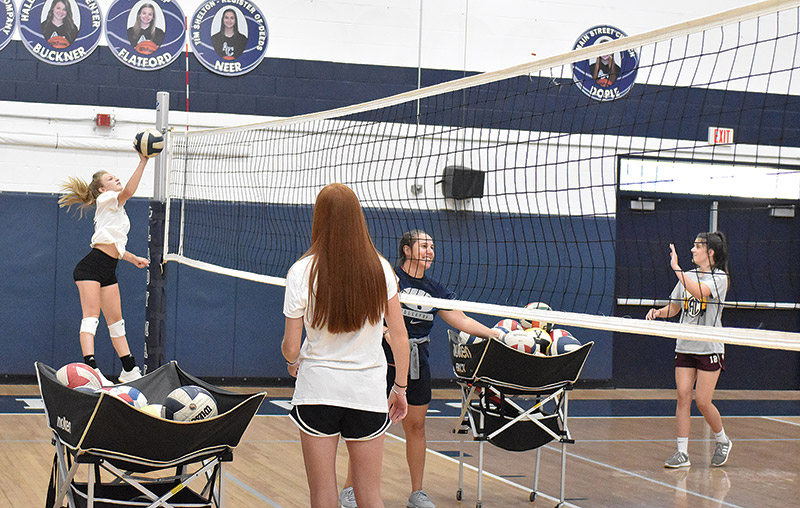 The Anderson County High School volleyball team held its annual tryouts this past Monday.

The team fared very well last season, making it to the state tournament and losing in the final four after an upset to a team it had already beaten earlier in the season. That team didn't have any seniors, meaning the members all will be returning again this year. With a full, experienced team, it should be interesting to watch how far the Mavericks make it.

Dail Cantrell, a coach for the volleyball team, said that things are a little different as they conform to social-distancing guidelines.

"Everyone has to have a temperature check when they come in, and we ask that they social distance. We're allowed to have 50 people in, so we're good on that front, but we're trying to follow the guidelines."

Every player, after her temperature check, was assigned a spot on the floor, 10 to 15 feet apart, where they weren't allowed to move from, and tryouts didn't include any blocking drills or contact at the net.

"For our sport, it's not really that difficult," said Cantrell, "since we do most of our demonstrations where they watch. We're sort of naturally socially distanced anyway. The social distancing will not have a huge impact on how we coach. We'll be able to modify to make sure we keep the girls safe."

The Mavs did the tryouts in cycles, with the incoming eighth-graders all trying out at 4:30 p.m.

After that, there was a short break for the staff to wipe down all of the equipment and sanitize everything before the returning high school students showed up for tryouts at 5:45.

Cantrell said he's not only excited by the returning team from last year (which will include six seniors), but the incoming class will be just as interesting.

"I think we have a fantastic group of freshmen coming in; it's the biggest group we've had in years of talented freshmen," he said. "Both of these teams, the eighth-grade teams, one won the state championship and the other competed in the state championship for their districts, so we have a lot of experience coming in."

The Mavs are expecting such a bump in their numbers that they hired a freshman coach, Halee Smith. Smith played college volleyball, but she is the first volleyball coach hired outside of Anderson County, meaning she's the only coach since the team's inception who didn't have some other connection with the school in some way. They've all been "home grown" as Cantrell jokingly put it.

"She just knocked our socks off with the interview, and with all of these freshmen, we wanted someone who was highly skilled and experienced to come and work with the freshmen."

Anderson County Volleyball has been fortunate with coaches, being the only school in East Tennessee with the ability to claim that every one of its coaches has been named Prep Extra's Coach of the Year.

The volleyball team doesn't do summer practices, because so many of the players take part in club sports outside of the official high school season.

That means that now that tryouts are over, the coaches won't see the players again for six to seven weeks.

Still, Cantrell said the whole staff has very high expectations for this team, and very high hopes as well.

"I think that this is a team that doesn't really have any weaknesses at any position," he said.

"Normally at our sport, you might have some weak hitters or a weak position, but this is probably the most well-rounded team that we've ever fielded.

"There are better players out there at individual positions, but I don't think there's any team out there that's so well-rounded," Cantrell added.