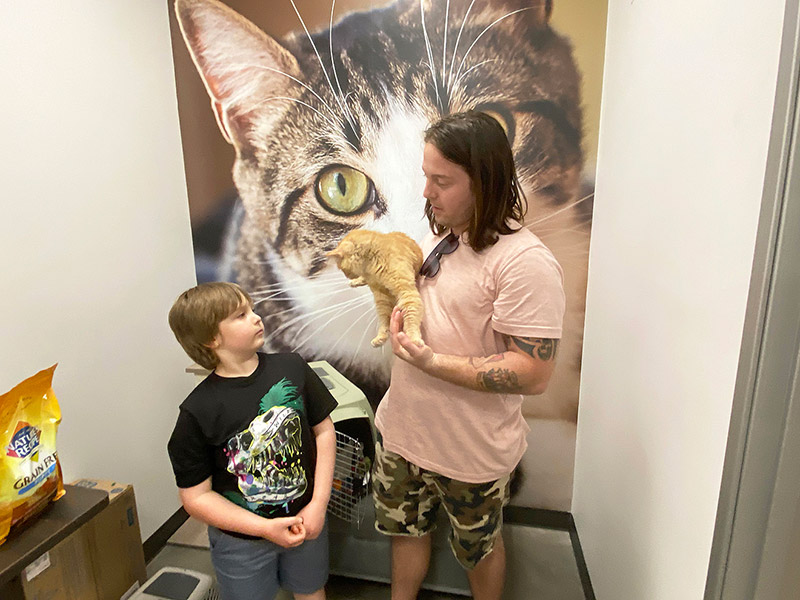 The kitties are finding new homes – finally.

Cat adoptions are back in business at the Oak Ridge location of PetSmart after being shut down for nearly three months over COVID-19 pandemic restrictions.

The cat rescue kiosk operated by the Anderson County Animal Shelter inside the PetSmart store, at 203 E Main St., reopened May 28 to begin allowing people to adopt cats and kittens that are wards of the shelter, said shelter manager Melonee Lund.

"We took all the cats out (of PetSmart) on March 1 because of COVID-19, and just brought them back last Thursday (May 28)," Lund said last week.

"On the first day back, we brought nine kittens and three adults, and all of them were adopted by the end of the day Sunday (May 31)," she said.

More have been arriving almost daily since, and have been finding new "furever" homes very quickly, Lund said – an indication that there was something of a "pent-up demand" for cats because of the long hiatus. Last Wednesday, John Tucker and his son Owen, 6, showed up to adopt a 2-year-old orange longhair tabby named Rascal, and took the obviously happy kitty home around mid-afternoon.

"We just fell in love with him," Tucker said of the friendly tabby.

The shelter brought two kittens and an adult cat to the PetSmart kiosk on Tuesday afternoon, and they were all adopted within a day, Lund said.

"We also just got a mama and babies, but the mama is feral and will be going to the rescue group Feral Feline Friends in Sevierville when the kittens are ready for adoption," she added. Among the kittens available for adoption last week was Mystic, a fuzzy longhair black female with beautiful blue eyes, about 10 weeks old, who was begging just about everyone she saw to take her home on Wednesday afternoon.

She was promised already, though, and was picked up by her new family on Thursday, as chronicled on the animal shelter's Facebook page. The PetSmart cat kiosk is staffed by animal shelter volunteers, and is open for adoptions seven days a week with limited hours. The shelter has been operating the kiosk since 2017. To reach a volunteer when there is no one at the kiosk, send a text to Mel at 850-259-2527. Adoption fees are $50 for adult cats (6 months or older) and $75 for kittens, cash or check only. The cats must leave the store in a carrier.

The shelter normally holds quarterly dog adoption events at PetSmart, but those have been on hold since March 1, Lund said. Dogs are available for adoption at the shelter at 1480 Blockhouse Valley Road, Clinton. Hours are limited.