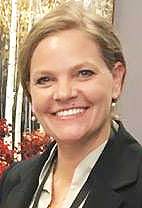 Mayor Terry Frank

The May 1 Primary offered some closely contested races for county office positions.

Only 10,390 Anderson Countians voted in the May 1 Primary. Anderson County has 45,195 registered voters.

The margin was razor thin in the Mayoral race between Incumbent Mayor Terry Frank and Steve Emert with only a 153-vote difference — 4,771 to 4,618.

Mayor Frank said, "I want to thank God, all the great friends and family who helped me campaign, who worked at the polls and made phone calls, and most especially I want to thank all the wonderful people who voted for me."

She went on to say, "I promise to keep working hard and do all I can to serve our county to the best of my ability. I have sincere admiration for each and every candidate who puts his or her name on the ballot.

"Win or lose, these candidates deserve our thanks and appreciation for stepping forward, putting their hearts on the line, and giving the people of Anderson County a choice."

Pick up a copy of this week's newspaper, Subscribe now or Login for the full story.