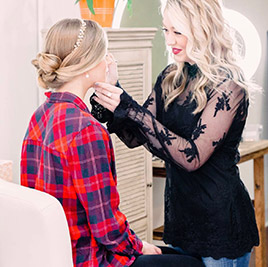 Suzie Clayton and her daughter Caitlin have done makeup for people like Joanna and Chip Gaines, Vanilla Ice, the Mandrell Sisters and American Pickers. Now, they're offering their services in downtown Clinton.

"This is more creative, just being here," Suzie said. "You get to meet people who are famous in production work, but you're really just powdering people's nose."

Their storefront is located at 357 Market Street. It is Clinton's first skin rejuvenation studio. They offer facials, chemical peels, dermaplane services.

"Everything skin rejuvenation!" said Suzie.

They've also added spray tans, hair and lash services.

"There were lean times in the beginning," she said. "Our hair stylist, Jessica Walker, has a full clientele. She warned us there would be times we'd be sitting all day."

But the lean times didn't last too long.

"We've been very blessed. The women have received it very well," she said.

The duo does a lot of bridal makeup. They also do style shoots and have been featured in Pink Bride magazine and other blogs and publications.

"It's pretty neat," she said.

They both went to the Tennessee School of Beauty. Suzie has been doing makeup for 18 years, and Caitlin has for six.

They've been trained in many things, but the one thing they're becoming well known for is something they taught themselves: costume makeup.

"We just watch videos and teach ourselves to do it," Caitlin laughed.

They both love to paint and are very creative.

"It all stems from that and flows together," Suzie said. "We're always doing something creative."

Most recently, they transformed The Courier News' publisher Tony Cox into the Grinch for the Clinton Christmas Parade. It was a huge hit. They did a lot of costume makeovers for Halloween this year.

The studio's most popular skincare service is their dermaplane services.

"We take a scalpel and exfoliate the skin on the face," Suzie explained. "It removes the dead skin and vellus hair. That allows your products to penetrate and takes care of issues like dryness and dull skin."

Suzie calls her grandmother Honey, which is how the company got its name.

You can follow Honey & Co. on Facebook at facebook.com/lovehoneyandco and on Instagram at

@lovehoneyandco.