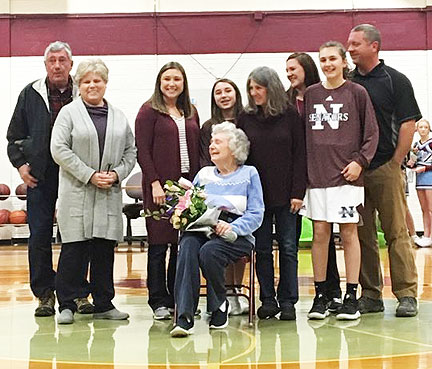 Mrs. Kathleen Wallace has been a part of Norris Basketball since 1942 but has rarely stepped out on the court.

On Thursday, Jan. 10, Mrs. Wallace became something of a Norris legend as Norris Middle School honored her for being a fan for 75 years.

Kathleen's basketball love started in 1942 when she first watched the love of her life and future husband Joe Wallace don the Senator Jersey to represent Norris School. Joe played for Norris from 1942-1946 with Kathleen cheering him on every game.

After high school the two married and had three children.

Their son Jody became the next Wallace to wear the Maroon and Blue of Norris High School from 1964-66. Next came Rebecca Wallace from 1970-74.

Their other daughter didn't play at Norris during her time there only because the school didn't field a girls' team then.

In the 1980's and 1990's a third generation of Wallace's hit the courts for Norris.

Five of Kathleen's eight grandchildren played at the renamed Norris Middle School including; Emily (Wallace) Haverkamp, Jayme (Wheeler) Smith, Amanda (Wallace) Mayes, Aaron Wheeler, and Melissa (Wallace) Freeman.

Kathleen's connection to Norris Basketball continued into a fourth generation when great-grandchildren Eberly Mayes and Anna Kay Smith suited up for the Lady Senators.

Anna Kay is an 8th grade student at Norris Middle and Eberly is a 7th grade player.

After 75 years and four generations, Kathleen Wallace is still attending basketball games at Norris.

Although the school has changed its name from Norris School to Norris High School to Norris Junior High School and finally Norris Middle School, Mrs. Wallace has been cheering on her team and her family.

Norris Middle School honored Mrs. Wallace for all those years of cheering, pep-talks, rides to practice, bags of popcorn purchased, washing of uniforms, late nights, and early mornings during its 8th grade night on Jan. 10.2019. Kathleen truly exemplifies what being a fan really means.