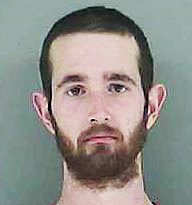 An Anderson County Grand Jury has indicted Claxton Community resident, Brady Daniel Hutton, on charges of aggravated child abuse and neglect.

Hutton, 27, was arrested at his work on Thursday by U.S. Marshal's and transported to the Anderson County Detention Facility by the Anderson County Sheriff's office.

On Oct. 24, 2018, the Sheriff's Office received a referral from the Department of Children's Services (DCS) regarding a severe child abuse complaint they received from the Children's Hospital staff in Knoxville.

At the hospital, Hutton was interviewed by DCS and Sheriff's Office detective, Darrell Slater, and it was determined there was enough probable cause to present the case to a grand jury.

The Anderson County Grand Jury subsequently indicted Hutton.

Sheriff Russell Barker was disgusted with the child's injuries, but relieved to know Hutton is off the streets.

"Child abuse is intolerable and will always be a top priority for my administration. Our streets are safer today with Brady Hutton in jail," stated Sheriff Barker.

Hutton's charge is a Class A Felony which carries a prison sentence of 15-60 years if convicted. Hutton is still incarcerated at the Anderson County Detention Facility on a $100,000 bond.