Anderson County bats come alive against Oak Ridge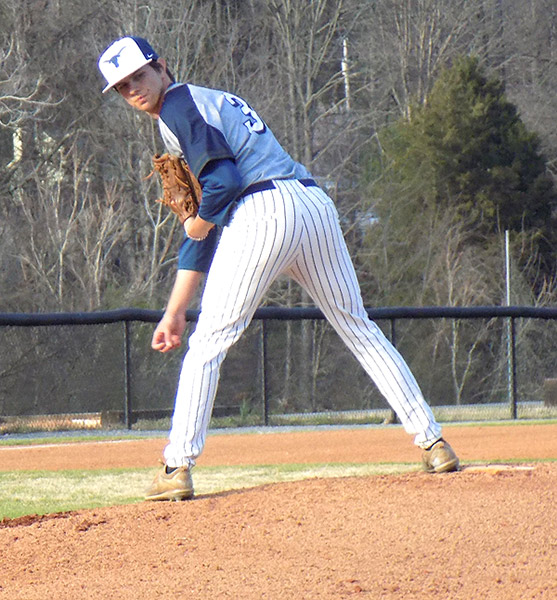 Last week's Anderson County High School baseball play was highlighted by the Mavericks sweep of two games over district rival Oak Ridge.

The Mavs easily defeated the Wildcats 7-1 Tuesday at Murrell Albright Field before easily handling Oak Ridge on the road Wednesday 14-4 in a game called after six innings due to the 10-run rule.

AC got a string pitching performance from Ryan Moog during Tuesday's home win as he struck out 11 Oak Ridge batters while walking two. Preston Seiber finished on the mound in relief. Eli Varner paced the Mav batting attack with two hits while Caleb Wilhoit drove home two runs.

A four-run first inning Wednesday in Oak Ridge enabled the Mavericks to set the tone early. A two-run single by Wilhoit and an RBI single by Seiber highlighted AC's first inning. Varner and Andy Fox scored two more in the fourth, advance on steals and wild pitches.

After the Wildcats scored four runs in the bottom the fourth, Tyler Phillips continued the Mav scoring when he was plated on an infield error caused by Cole Foust's ground ball. Varner and Devin Wilcox struck out, but still reached first base on strike three wild pitches – the latter bringing home Varner. Wilcox scored on a ground ball error caused by Connor Tackett.

Wilhoit, Seiber and Foust scored three more in the sixth as the Ridgers were plagued by walks, hitting two Mav batters and wild pitches. Wilcox scored Foust via an RBI single.

Jackson Muncy earned the pitching victory, working four innings and striking out seven and walking none. Muncy gave up four runs and seven hits. Reliever Denver Hubbard finished the final two innings as he kept the Wildcats off the scoreboard, allowing one hits and fanning one.

The Mavs were overmatched by visiting Lenoir City Thursday as three pitchers combined to no-hit Anderson County over the seven innings, recording 14 strikeouts along the way.

The only Mavs to reach were Foust via a second-inning walk, Tackett when he was hit by a pitch in the third and Andy Fox on an infield error in the fifth. Webber, Hudson Hargrove and Seiber each walked in the sixth. Hubbard pitched five innings of relief and struck out eight.

The Mavs and Hardin Valley engaged in a hitter's game Friday before the visiting Hawks outlasted the Mavericks 14-10.

Already behind 7-0, Fox belted a solo homer in the third inning to start a four-run outburst that included Phillips reaching on an error, Webber walking, a Seiber single and a Wilhoit double accounting for the four runs.

The AC fourth found Varner single and advance on Wilcox' sacrifice. Fox was hit by a pitch before Foust singled home Varner and Phillips doubled in Fox. In the fifth, Varner doubled in Wilhoit, who led off with a double. Tackett plated Webber and Seiber in the sixth after they each walked.

Wilcox scored the final AC run in the seventh as he led off the inning with a single, advanced to second on a wild pitch, stole third and scored on a wild pitch.

Fox pitched four innings of relief and struck out five.