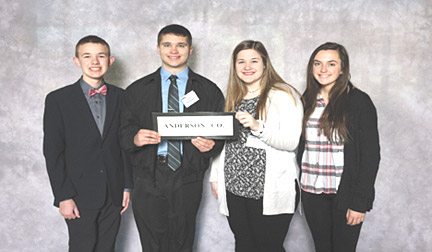 Students from Anderson County and Clinton High School joined approximately 350 high school students in Murfreesboro in March to express views on public education in Tennessee at the Tennessee School Board Association (TSBA) Student Congress on Policies in Education (SCOPE).

Attendees participated in mock school board sessions where they assumed roles as school board members.

The students chose speakers to take part in full-scale debate on current education issues.

Topics were:

1. High school graduation requirements shall include several pathways (college and career, industry, etc) to allow student to graduate with a regular high school diploma.

Agree 59-percent, Disagree 41-percent

2. Students shall have the option of substituting club sports for Physical Education requirements. Agree 80-percent, Disagree 20-percent

3. Fighting on school grounds shall be a zero tolerance offense. Agree 24-percent Disagree 76-percent;

4. For purposes of honors at graduation, the board shall use the Latin system (i.e. summa cum laude, magna cum laude, and cum laude) instead of selecting a valedictorian and salutatorian. Agree 51-percent Disagree 49-percent.



Pictured from left are: Gabriel Watson (ACHS), Dylan Montgomery (CHS), Kaylee Lawson (CHS), and Alexandria Perry (ACHS).