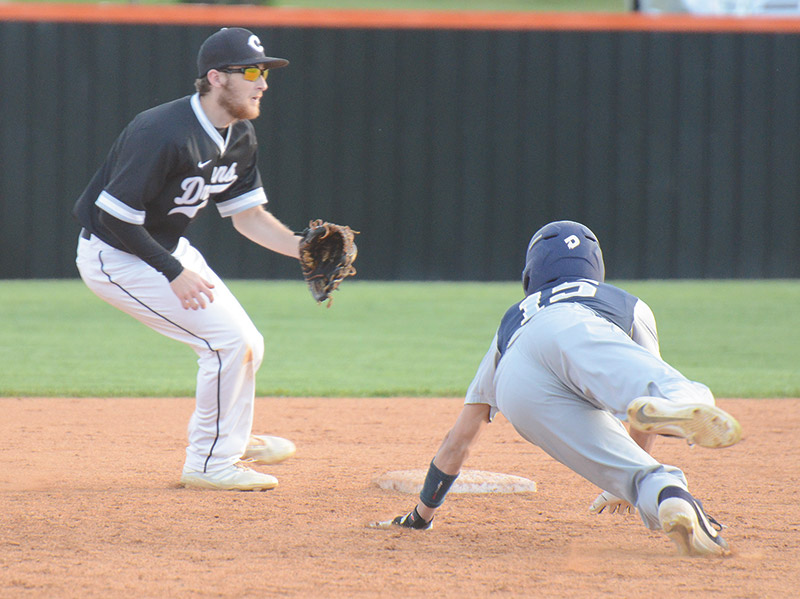 Anderson County clinched the baseball series with Clinton last Tuesday as the Mavericks shut out the Dragons 10-0 at Jaycee Park.

The game was called after six innings due to the 10-run rule one night after the Mavericks bombarded the Dragons 14-1 in another called game after six innings at Murrel Albright Field.

Mavs pitcher Jackson Muncy turned in another strong performance as he struck out 11 Dragons while limiting the home to two hits and three walks. AC utilized two three-run innings – fourth and fifth – to run away from Clinton.

The Mavs scored twice in the first inning as Tyler Phillips drove home Andy Fox on a fielder's choice before Luke Lowery singled in Caleb Wilhoit.

Fox doubled in Devin Wilcox and Eli Varner in the second before Tyler Phillips' sacrifice fly plated Connor Tackett. RBI singles by Phillips and Foust and Lowery's sacrifice fly in the fourth built the AC advantage to 8-0.

Philips scored AC's ninth run in the sixth as he singled before scoring on an error. Foust doubled home Cody Redden to increase the lead to 10-0.

Chase Lockard's first-inning single and a Nathan Lee base hit in the second were the only two Dragon hits. Connor Moody, Austin Pemberton and Blake Moody were the only Dragon to reach via a walk.



The Mavs suffered a 9-8 road loss at Lenoir City Thursday as a two-run AC seven-inning rally came up

short for the Mavs as they headed into the Easter break.



Cole Foust scored in the second after singling, advancing on a couple of wild pitches a coming home via

a balk. Fox squeezed Webber home with the second run as the bases were loaded.



Phillips singled to lead off the third, stole second and eventually scored on Lowe's sacrifice fly. After

Varner walked in the fourth, courtesy runner Devin Wilcox would advance on a Fox bunt single before

scoring on Tackett's sacrifice fly to center.



Wilhoit and Lowery led off the fifth with a double and single respectively. Seiber hit into a fielder's

choice to plate Wilhoit while Seiber advance on a Foust single and Webber bunted before Seiber came

via Varner's single.



AC's seventh-inning rally got going with a Lowery double. Seiber and Foust reached on errors. Webber's

groundout brought in Lowery. After Varner walked, Fox hit a sacrifice fly to center, bringing home Seiber to make the score 9-8.



The Mavs finish their home regular season schedule when they host Cookeville at 6 p.m. Wednesday and Pigeon Forge at 7 p.m. Friday. The regular season ends Saturday with a noon start at South Doyle.



District 3-AAA play is scheduled next week with dates, locations and times to be announced.