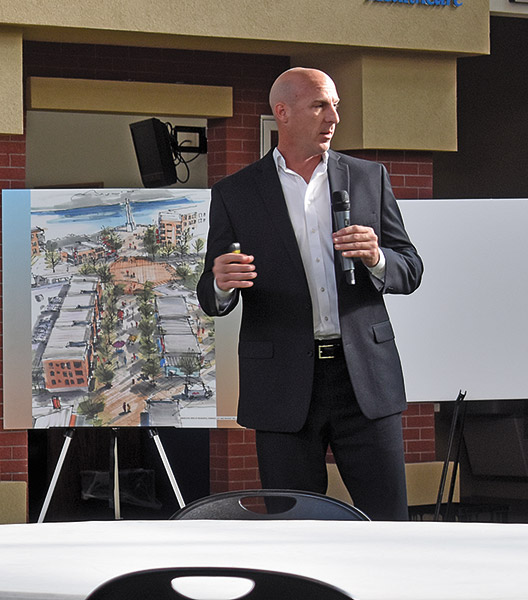 A group of Anderson County Chamber of Commerce members and Clinton city officials received a significant update last week on the Clinton Downtown Vision as well as entrepreneur Joe Hollingsworth's Aspire Park in South Clinton.



What's new with the Downtown Vision?

Chamber president Rick Meredith presented the audience with updates on the Clinton Downtown Vision that was first discussed 18 months ago.

Meredith acknowledged that demolition has been slow at Magnet Mills but hopes to connect Market Street to the Magnet Mills land with a pedestrian extension and build a five-day farmers' market and small multi-purpose urban park within the next few years.

He also hopes to actively develop downtown housing. That goal will be kickstarted by Jenks and Dudley Hoskins, who are building a single-family residential home on Market Street where the pavilion currently sits.

Some of these goals are contingent on receiving grant money, which the city and chamber will know more about in the fall.

Clinton City Manager Roger Houck described a few road improvements that will hold up traffic but will solve traffic flow issues long-term.

The first of those is the viaduct going over Market Street and Eagle Bend.

Construction will start in January and will shut down traffic to one lane each direction for six to eight months, according to Houck.

By September, TDOT will also begin construction on the I-75 exit 122. There will be two left-turn lanes going into Clinton and another lane going toward Andersonville.

An immediate improvement is the addition of "way-finding" signs, according to Meredith.

These will help visitors and tourists find their way to the Green McAdoo Cultural Center, downtown Clinton, and other local landmarks.

The city received a grant for $15,000 in June for this project through the Tennessee Downtowns program.



Aspire park moving forward

Executive Director Mike Wallace, who oversees the Aspire Park project, said that one of the goals is for Aspire to be a catalyst for economic development.

"We want to put Clinton on the map more than it already is," Wallace said. "Clinton's a great place and we will further that greatness by bringing Aspire to the community."

The plans are lofty: "evocative" landscaping, as Port Urbanism founder Chris Marcinkowski described it — a place where people come and are inspired to question what "could be."

Inspirational recreation, as Marcinkowski put it.

Marcinkowski's firm was chosen by the Hollingsworth Foundation to bring the park dream to life. Port Urbanism is based out of the Chicago area, but they do work all over the nation. Marcinkowski is working on two projects in Knoxville. One is creating an urban wilderness gateway at James White Parkway, and the other is creating an "amazing landscape" at Fort Dickerson. He is a sought-after urban designer and planner; he's managed projects in China, Sweden and San Juan, Puerto Rico. According to Port Urbanism's website, they are a "leading-edge design consultancy whose work focuses on the analysis, visioning, design and implementation of new forms of collective space and public realm, ranging in scale from plazas, parks and public waterfronts, to institutional framework plans and regional planning strategies."

All that to say — the team putting together the park knows what they're doing.

"Economic growth creates opportunity," said Marcinkowski. "This is an opportunity to enhance the city, to improve it and make it a destination nationally. This is a once-in-a-generation opportunity for Clinton."

What excites him about the South Clinton site is the dramatically different landscapes: the mountains, ridge, view of the Clinch River and the flat meadow area.

The meadow area is the site of a landfill that was used in the 1990s to store coal ash from Bull Run. The ash was used to level out what was then industrial land.

"The fill is something that in the past was a detriment, but we think we can transform it back into an asset," said Marcinkowski.

The Tennessee Department of Energy and Conservation has been working with the team to ensure safety and environmental standards have been met. The Courier News has requested the latest records available regarding environmental standards at the site from TDEC.

It's a very important piece of the park. The area will be a passive area, but it will serve as the gateway to the rest of the park.

The master plan includes amenities like a beer garden, terrace and place where people can just come and hang out, according to Marcinkowski.

A farmers' market, a dog park and an area that's an agricultural grove of botanical planting are all part of the dream.

"It won't be a static thing," he said. "It will be constantly evolving. This is a park and a landscape that we want to be recreational and compelling, but also one that inspires people to think of what else is possible."

Hollingsworth himself said that he has received many handwritten notes and positive feedback from the community about the park. While there is still no official groundbreaking date set, Marcinkowsi said they are moving faster on this park than any he has previously worked on.