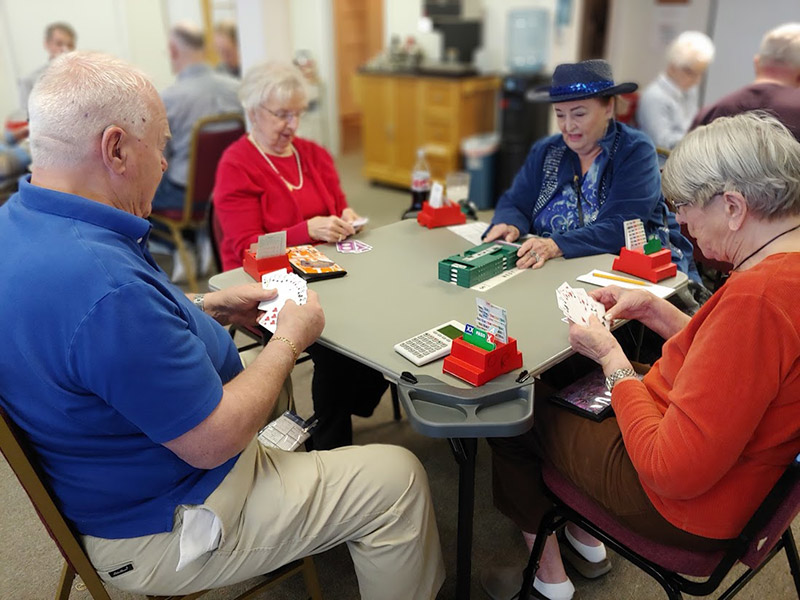 Want to improve your memory, socialize, improve your immune system, keep sharp?

This game of mental gymnastics can even help you derive pleasure, preventing the onset of classic depression.

Regardless of a beginning bridge player's age, physical condition or education, tools are available to help you learn the game. Everyone can learn to play bridge. Even the recent Jeopardy big time winner plays duplicate bridge...and usually wins; however, you don't need to be a genius to enjoy playing bridge.

The Oak Ridge Bridge Association is offering beginning bridge classes Saturdays from 9:30-12:30 starting July 20 at the Oak Ridge Bridge Center located at 120 Randolph Road in Grove Center. Each lesson in the 2 over 1 bidding system costs $8 and will consist of half instruction and half playing practice hands. Come alone or bring a friend.

Please contact certified American Contract Bridge League instructor Stephi Luttrell at 865 806 1481 or by Email at stephi.luttrell@gmail.com to pre-register (encouraged, but not required) to ensure adequate materials for participants.

Bridge is the most popular and exciting card game all over the world, because it is a game of skill, not luck. Each hand is unique with billions of possibilities.

In bridge you will never have a bad hand. It doesn't matter what cards you have. Instead it matters how well you bid and play them, because everybody else will play the same hands, and you score against other players. You have the opportunity to strengthen communication and teamwork skills.

Sign up to come play a new game called bridge, or to improve your old game. Playing bridge is challenging, inexpensive and can accommodate those with disabilities.

While playing bridge, you will also learn logic reasoning, quick thinking patience and concentration.

You can learn bridge basics in a day, but even experts always have more to learn about this game.

Everyone is encouraged to come have some fun.

The Oak Ridge Bridge Association holds games open to everybody starting at 10:30 a.m. Mondays, Wednesdays and Fridays.

Sunday open games begin at 1:30 p.m.

On Tuesdays, Robert Stockdale (phone 865 919 0718) directs a game for non-life masters with less than 499 points; he even helps find partners for you.

If you need more information, please contact Carol Bond, Club Manager, at 828 691 6706. We also have a web site: www.oakridgebridge.org.