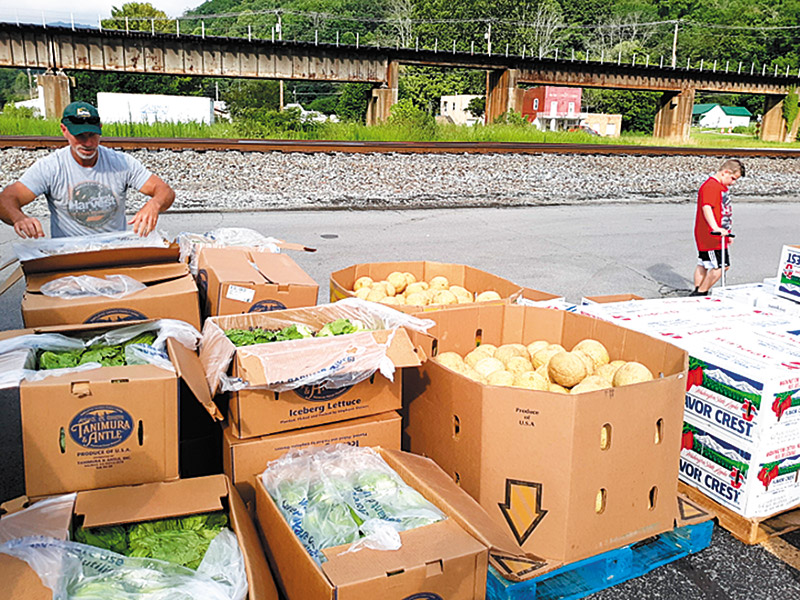 Anderson County Community Action Commission partnered with Second Harvest Food Bank last week to bring fresh fruit and vegetables to the Rocky Top community.

More than 200 families were served.

The closure of Shop Rite — the only grocery store in Rocky Top — in July 2018 has hit the area hard. A small store has opened up beside it with a deli, but it isn't a full grocery store.

Connie Klinkhammer, who oversees the bread program at ACCAC, said that she asked Second Harvest to set up the food delivery. Klinkhammer lives in Rocky Top and has seen firsthand the need for fresh produce.

The nutrition gap worries her for those who can't get to a store in a neighboring town, but she said it's not likely she would ever see data reflecting an increase in disease due to malnutrition because they can't afford to go to the doctor, either.

Families traveled from as far as New River to pick up food.

"And New River is a good little hike from here," Klinkhammer said. "They have to go all the way over the mountain and go to Oliver Springs or go the other side of the mountain to Clinton just for a gallon of milk."

And a lot of people in those communities don't have cars.

"They hitch rides, but they have to pay the person," she said.

Many of her clients at ACCAC are senior citizens, and they often have to decide whether to pay someone for a ride to the grocery store or pay the light bill that month.

"Most of them are on a very fixed income," she said, describing how many are juggling just tens of dollars as they try to prioritize their needs.

The next food delivery will be on Aug. 9. Call Klinkhammer at 865-457-5500 for more information.