'Blessing Box' faced with numerous obstacles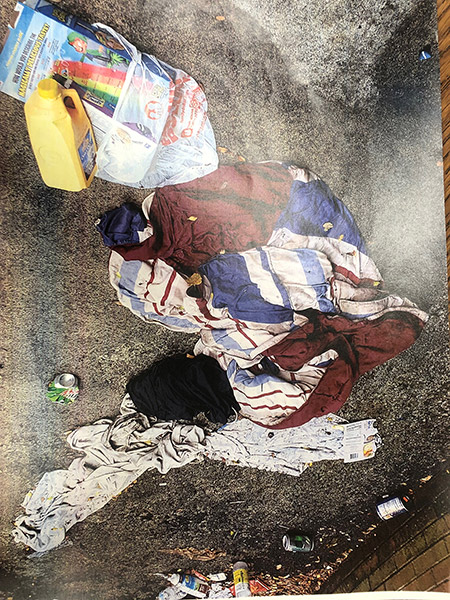 On a rainy Monday afternoon, Rocky Top Library Director Norma Day pointed out a partially walled area behind the library that houses the HVAC unit.

Lately, it's housed a few people on occasion as well.

As she stood there, two young men came out from behind a building across the parking lot. She recognized them both — one was a transient who had been banned from the library, and the other was also homeless, but not banned. They crossed the road and settled in behind Shop Rite as Day spoke.

"I want to help people who need help," she said.

But the library isn't exactly equipped to do it.

That was her plea to Rocky Top city council last week when she and members from Friends of the Library came to discuss the Blessing Box set up outside of the library. It was placed on a state right-of-way, so it wasn't on city property or anyone else's, really.

The Blessing Box is a cupboard where people can donate food and others can come by and take some if they need it.

The organizers couldn't set the box up on city property because there are too many people who have "no trespassing" orders against them from the city, according to Rocky Top Police Chief Jim Shetterly.

For around three years now, Day has seen an increase in the homeless population in the city, and that has had a direct effect on the library and its staff.

Based on Day's opinion and echoed by Anderson County Community Action Commission volunteer Connie Klinkhammer, there are around 20 homeless people in Rocky Top that have kind of "moved in."

These aren't all Rocky Top families or residents — they're mostly young men who have come down off I-75 and settled in. There is no homeless shelter anywhere near I-75 between Knoxville and Scott County, or any resources available for them, whether they are local or transient.

Day said that she is in favor of the Blessing Box and helping the homeless no matter who they are, but that partnering with a church or other group that could oversee the box and the surrounding area might be a better idea.

In a letter written to council in February, she said that "helping those less fortunate is a wonderful idea; however, I feel the library is not an appropriate place for the box to be placed."

She said the library has already had to ban a number of transients from the library for falling asleep on the computer keyboards, using the restrooms to take a bath, wash their hair, use drugs, sleeping inside the HVAC area, destroying the outside electrical outlets in an attempt to charge their phones and urinating on the back patio.

"With the box placed here, I feel it would draw more of the problems we are already dealing with," she wrote. "We as library employees provide the janitorial services of the library. There have been times this has been very unpleasant and possibly hazardous to us."

Bottom line: the library isn't equipped to deal with the needs of a growing transient population.



Unintended

consequences

The Blessing Box is the brainchild of Rocky Top-native Vickie Massey. The good-natured idea has nothing but the best intentions: to help people who don't have regular access to food. Especially after the closure of the Shop Rite grocery store last year.

"My main point in all this was to give the kids of the community something to eat if they needed it," Massey said.

City councilmember Brian Brown, who was just elected last fall, has actually resigned over all this. He said his resignation is in part due to health reasons, but also out of frustration with the process of how things get done at a higher level.

"The only reason I ran [for office] was to try to help the city," Brown said in an interview with The Courier News. He was voted in last fall. "I knew it would be a fighting battle."

Massey is very disappointed in the process as well. The box ended up being taken down by Brown after the city council meeting on Thursday following the discussion of where else it could go.

"I can't believe I've gone through all this just to help the people," Massey said. "As of now, the box is at my house."

She didn't even know the issue was going to be discussed at council last week and said she would have been there had she known. Massey acknowledges the problems, and that the box was at times getting taken advantage of. People were seen on more than one occasion stopping at the box and loading their vehicle up with everything inside it.

More often than not, though, it was just used by the kids.

"People don't want to help people anymore," Massey said. "People discourage me. But I've got fight left in me. I will keep going. My heart goes out to people who need help. We have a lot of people in Lake City that live on nothing, and that's where my heart is."

Day said that she, too, cares about the people in the community who are in need, and that she believes there are two separate, distinct issues at play here.

"We've always tried to provide a clean, welcoming place," she said, "and I'm not against helping those who need to be helped."

She said there was some misinformation floating around social media. The topic of the Blessing Box was posted on one community Facebook forum, and there were dozens of comments. For one, people said the library had fleas because of the Blessing Box, according to Day. She said that is not true, and that there were some fleas in the library, but it had nothing to do with box. An exterminator has since taken care of that. She also said it is not true that she wants a 6-foot fence around the library. She would like a fence around the HVAC area only.

Day expressed frustration at the way information is handled on social media, saying that it appeared that any positive comments about the library were immediately removed.

Rocky Top City Manager Michael Foster said that he nor anyone else on council has ever been against the Blessing Box, just the location.

"We never were and still are not against it," Foster said. "We've had some problems at the rec center and library. Being on city property was always an issue because some people using the box had a 'no trespassing' order against them. We think it's a great idea, it just needs to be on private property so it can be managed."

He said one idea could be making free snacks available at the concession stand at the rec center.

"We could take donations at the rec center," he said. "And the Blessing Box could be on private property, or a church."

The next Rocky Top city council meeting is on Aug. 15 at 6 p.m. at City Hall.