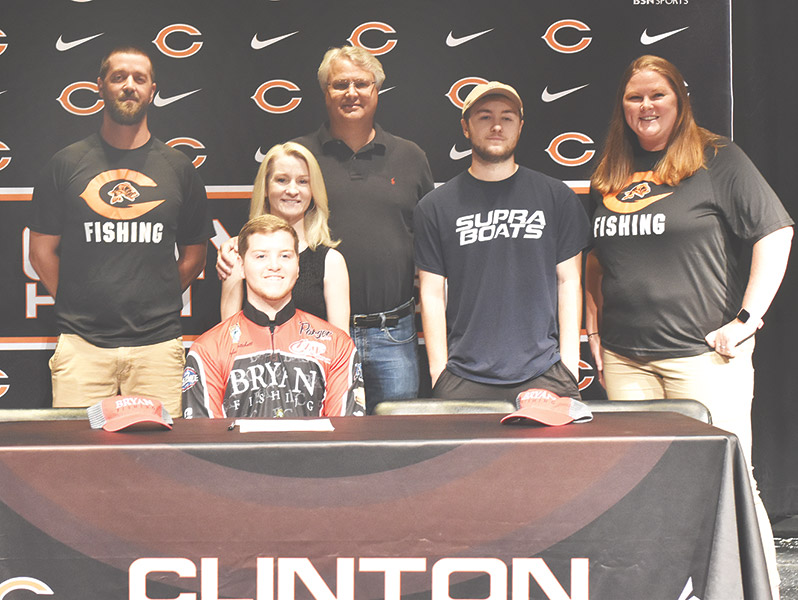 On July 22, Clinton High School student Christian Wright committed to a bass fishing scholarship from Bryan University. He is the second student from Clinton to receive a fishing scholarship in recent years.

Wright started bass fishing his sophomore year, and he won Clinton's first State Championship for fishing at the Tennessee Bass Nation State Championship with a two-day total of 44.09 lbs.

What's even more impressive is he competed alone, where most fisherman compete with a partner.

He plans to study business at Bryan and eventually join his family's business, metal fabrication, and use his knowledge of boating and the water to produce products that help fishermen.

David Jones is the coach of the bass fishing team at Clinton High School, and this will be his fourth year as the head of the club.

"You know, they're not only getting a good angler, but they're getting a good person, and that's what's important," said Jones regarding Wright.

The athletic director for Clinton High, Brad Collette, also attended the signing and had nothing but good to say about Christian.

"I know he's done really well here at Clinton, and I know he's really grown," said Collette.

Fishing is an exploding national sport, with 37 states having intercollegiate affiliate bass-fishing teams.

Many tout it as an alternative sport for those who aren't inclined towards more traditional sports such as football or basketball, either due to ability, interest, or other factors.

With a much lower injury rate and a much less grueling conditioning program behind it, the sport is attracting many kids who want the experience of varsity sports and the challenge of being better and proving themselves – without the bruises and sprains and shin splints.

"It's getting to be one of the biggest sports in the country," said Mike Keen, the head of Bryan College's bass fishing program.

"I get told all the time that [bass fishing] ain't a real sport by the other coaches, but I tell them, 'Get your best kid out on the water at the crack of dawn and we'll see how well they do' We'll see if they don't think it's a sport then."

"They're just dedicated," he continued, smiling.

"And there's just something about them outdoor kids."

Jones agreed with Keen, saying it gives an outlet to a lot of kids who might not have any other one, and since the $30 fee covers everything for them, it's a lot more approachable too.

"You know, this program has really saved a lot of kids. There's been a lot of them who don't want to play football or baseball, and it gives them something to put time into after school and get better at.

"It's teaching them leadership and commitment and dedication and all those skills of other sports, but it's fishing."

Christian will be competing in this year's National Bass Fishing Championships, which will be held August 8-10 on Kentucky Lake in Paris, Tenn.