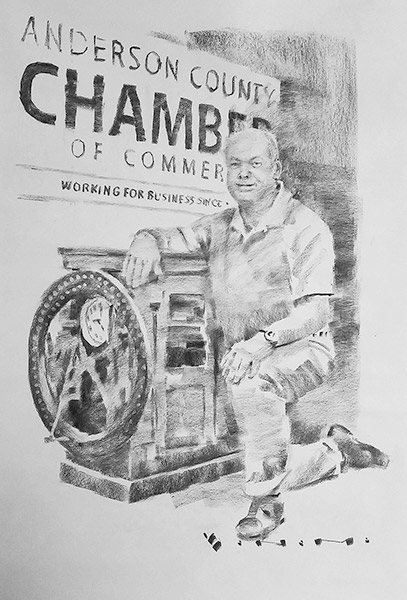 He's an Anderson County boy through and through.

The Meredith family was one of many families moved out of the Stinking Creek area of Campbell County in the 1930s when Norris Dam was being built. His family home and many others were flooded.

"I've gone back and seen the steps with my father," said Rick Meredith. "Then the family moved to the Meredith Farm on Eagle Bend. The rest is history."

The rest is history, but Meredith is also a part of the future. As president of the Anderson County Chamber of Commerce, he aims to bring the county forward, sometimes by sheer force of will.

"It's been quite challenging with Magnet Mills," he said, referring to the painfully slow demolition process and revitalization of the downtown Clinton area.

His work here at home is what he's most proud of.

"I get to use all my experience from my past careers and bring it here, to help," he said.

"I traveled for 14 years working for the state and working for Joe [Hollingsworth]. I got to see most of the country. But this job came up, and I thought, 'Man, I have got to help my hometown."

Meredith's first official job was bagging groceries at the White Store, now Food City. Prior to that, he mowed lawns from the age of 13. This sketch of Meredith shows him with a time clock from Magnet Mills, built by IBM.

Someone had it in a barn in Powell, according to Meredith, and he couldn't pass it up when it was offered to him.

It's in the lobby of the chamber, which is about as far as it will go because it's as heavy as a ton of bricks.

It's dated 1923.

LaFollette resident Joe Bonomo is a prolific, successful artist, and is passionate about portraiture. He spent many hours in Anderson County recently photographing people in town and learning a little about them, and then going back home and creating their portraits.

To find out more about Bonomo's art, visit bonomoart.com, on Facebook at Facebook.com/artofjoebonomo, and on Instagram at @bonomoart.

This series, however, is only available in The Courier News.