Antonio Leynez found a calling with blacksmithing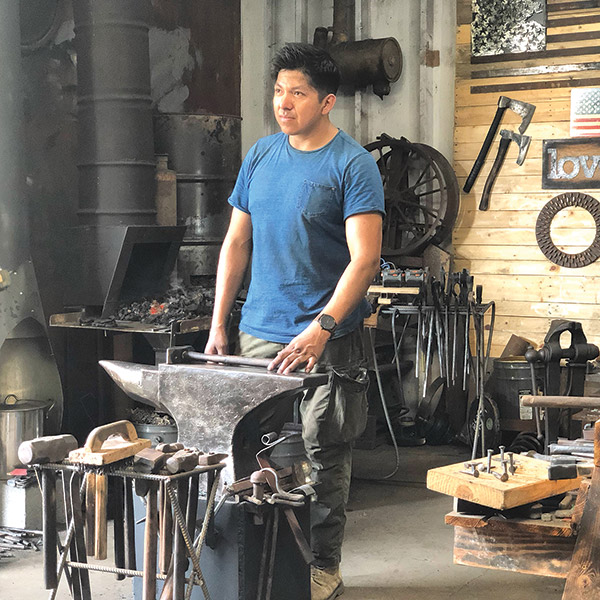 He's a jack of all trades and calls himself a master of none, but one could argue whether that's true or not.

"I don't feel like I have a talent," he said humbly, "but I do have skills!"

Antonio Leynez is passionate about learning, and about passing that knowledge on to others. Not too long ago, he met a man who was a blacksmith.

"It was something I didn't even know existed," he said. "And now it's my passion and what I want to do every day."

He jumped right in with both feet once he learned how it all worked, and now has a forge in South Clinton called Koryo Forge.

Leynez makes traditional tools — but prefers not to do knives — and a wide variety of decorative items. Right now, he's working on a metal sculpture of an eagle. He also makes axes, hair pins, metal lilies, and dragons (because why not?).

He moved to Clinton two years ago from Knoxville, where he lived from the time he was a teenager. But the traffic in Knoxville was driving him crazy.

"It was getting so fast, the life there," he said. "It was getting frustrating. So, I found a little work out this way. This is really what I wanted. It's so beautiful and I'm absolutely glad I made the move."

When he was younger, he worked at a cast iron foundry for a while. That was his only connection to metal working, and that's what his dream was until he discovered blacksmithing. He works for a home remodeling company full-time these days, then works at his forge every spare moment.

"So now my dreams have changed," he said. "I still want to have a family and all that, but I would love to do this as a full-time job."

He wants to teach the trade to teens and encourage them to get outside and do something physical.

"When I grew up, it was a different culture," he said. Leynez is originally from Mexico. "But doing hard, physical work taught me the meaning of working for what you have. Not to just sit down and expect it."

The name of the forge is a whole other story. Leynez is a taekwondo student, and the word "koryo" is a movement made by students who are testing for their black belt. The move symbolizes "seonbae," which traditionally means "a learned man who is characterized by a strong martial spirit as well as a righteous learned man's spirit."

"And I'm forging myself to become one," Leynez said.

Find Leynez on Facebook at Facebook.com/Koryoforge.