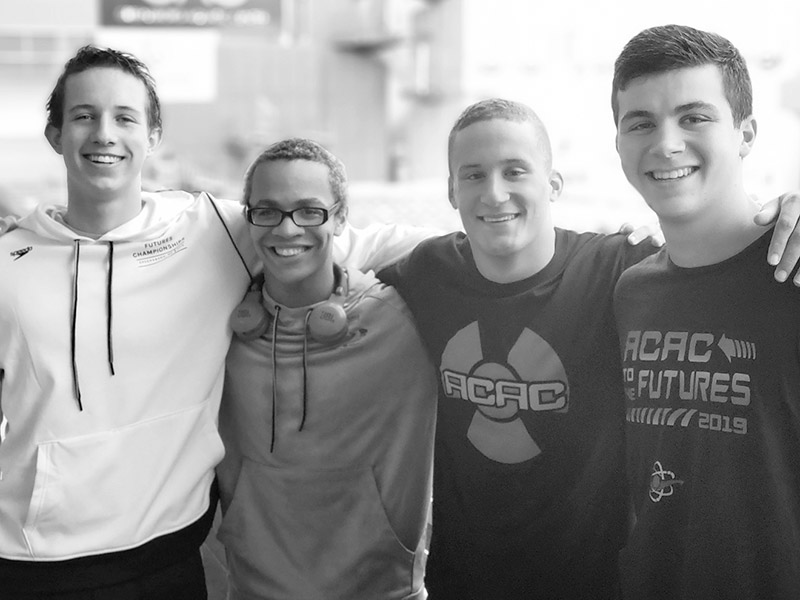 Atomic City Aquatic Club (ACAC) was a picture of success at two high-level meets. Swimmers who made very difficult cuts to be invited to these high-level swim meets did not disappoint.

The first meet was the USA Swimmng Futures Championships, a meet that requires obtaining very difficult cuts in order to be invited. Abbey Aycock (17), Emily Aycock (18) Tais Brown (15), Harper Houk (17), Abigail King (14) Bryar Long (22), Kiana Schumacher (20), and Zack Telep participated for ACAC.

Bryar Long led the way with points for making finals in the 100 Breast (5th), 200 Breast (4th), 200 IM (2nd) and he also participated in the 400 Medley Relay.

Emily Aycock scored points by taking 4th in the 400 Free, 7th in the 800 Free, 9th in the 1500 Free, and 20th in the 200 Free.

Tais Brown scored points with a 3rd place finish in the 200 Fly and also competed in the 400 Medley Relay.

The other swimmers also made ACAC proud by competing hard and demonstrating that they are elite swimmers.

The second meet was the Southern Zone Team Championship, where three ACAC swimmers represented an all-star team from the Southeastern LSC against other all-star teams in the Southern Zone.

To be invited required an individual top eight overall power point finish based on the best three individual races at the Southeastern Championships in the respective age group.

Logan Hall (12) scored points by placing 5th in the 100 Fly and 5th in the 50 Fly, along with swimming four other individual events and the 200 and 400 Free and Medley Relays.

Stephen Zhukov (12) swam six races, as well as the 200 and 400 Free Relays.

Andrew Chou (12) swam six races and swam in the 400 Free Relay.

For more information about ACAC please contact Dean Gerchar by email at dmg5829@gmail.com or go to swim4acac.com.