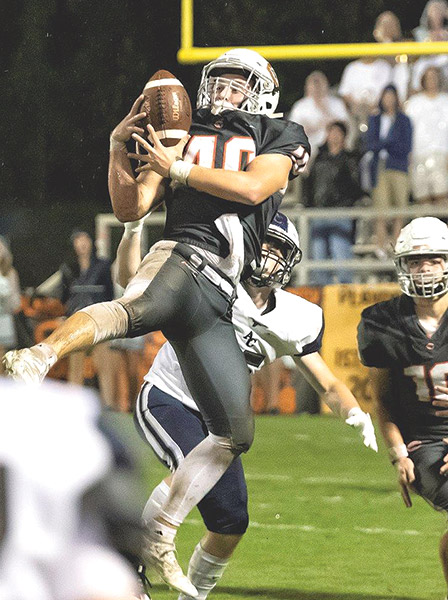 Two great games come this week on the heels of the Battle of the Bridge where Clinton faced off against AC.

Anderson County travels to Powell to face off against the Panthers in their first out-of-region game for the season.

Last season Powell went 2-8 as head coach Matt Lowe returned to the program.

Lowe lead the panthers to the 5A championship game in 2011, but retired after that year to spend time with his family.

2018 marked his first year back, and despite winning six of their first seven games, due to an ineligible player, they were forced to forfeit all of their wins, leading to their abysmal final record.

This will be Lowe's second year back as head of the program.

AC head coach Davey Gillum said they'll spend the next few practices paying close attention to and practicing against Powell's predicted offense and defense strategies to prepare.

"We have some guys that we need to get healthy," said Gillum. "And we have to get mentally ready."

After Powell's win against Greenville, they're paying extra attention.

"Watching the Greenville game, everyone was shocked at how good Powell was. Just how physical they were and how well their defense played. Everyone's a little in awe right now of how big and physical Powell is right now, and how big and huge. That's just something that really catches your eye. Greenville's a good program and they don't get tossed around like that."



Gillum was head coach in 2009 when Anderson County lost to Powell in the first round of the 5A playoffs.



"The big thing you get from Matt is he's a Powell boy and the community loves him. He does a real good job of getting his kids to buy into the program and play really good, really physical football. No matter how much the schemes change, the mentality is always the same."



Anderson County came away with no injuries Friday apart from some bumps and bruises, and Gillum said they're looking forward to the game.



"It's a good opportunity for our program. We lose a lot of kids and go from a favorite in East Tennessee to people looking at us like we're rebuilding. Powell has established themselves well, so it'll be good for these kids to prove themselves and make their mark and prove that we haven't fallen as far as some people think we have."





Clinton faces off against CAK.



Clinton, meanwhile, hosts Christian Academy of Knoxville (CAK). CAK went 3-8 overall last season but they're coming off a decisive win against the Volunteer Falcons, where they went 36-16. Clinton went 4-7 last year.



The game should be strong with CAK's momentum going into the game and Clinton coming off a demoralizing loss. Clinton, being in a higher bracket, should have an advantage over CAK. Clinton is a 5A school relative to CAK's 2A ranking. That means they should have much more depth and talent to choose from as a school. That being said – it's never that simple.



Currenly, CAK ranks much higher than Clinton, at 129 in the state relative to Clinton's 198. With numbers being all over the place regarding the two teams, it'll be interesting to see what actually happens during the game, whether the numbers tell the whole story or whether they're way off (as they so often are).



Head Coach Randy McKamey did not respond to requests for comment at the time of publication.