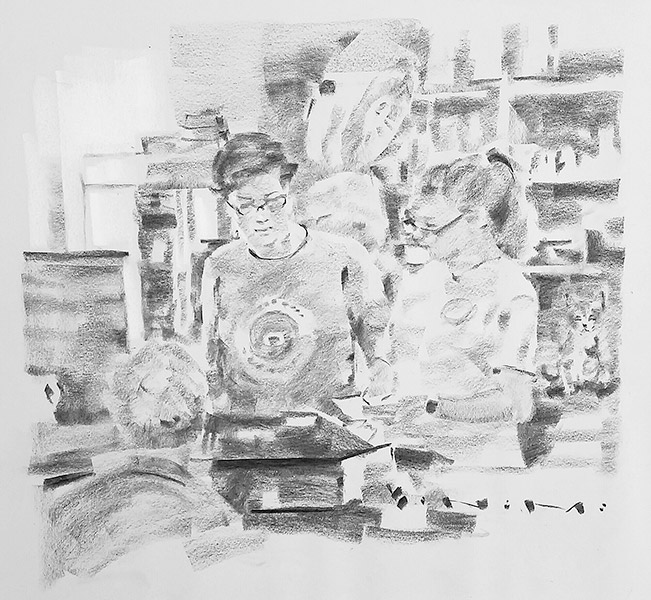 Stop by the Museum of Appalachia anytime between 11 a.m. - 2 p.m. and you'll be sure to see Jennifer Teague running back and forth in the kitchen, either cashiering, taking orders or prepping for an event.

But, you won't find her cooking.

"I am not a cook," she laughed. "They know not to ask me to cook. But I do everything else."

She's been doing a little of everything else for eight years now.

She came down to Anderson County from West Virginia in 1983, when she married her husband. She would come shop at the Museum's gift shop, and loved John Rice Irwin's collection.

"It fascinates me that all this is one man's collection," she said. "Some people collect pottery or antique dishes, but he collects cabins and churches. And he has so much."

Her favorite part of working at the Museum's restaurant is the people. They come from all over the country, and even from overseas, to see Irwin's collection and eat at the cafe.

She also loves the cats. There are three cats that call the museum home — Oreo, Cat Stevens and Marilyn.

At home, she has eight cats.

"Everybody that knows me knows that I'm kind of a crazy cat lady," she said.

And the humans that come by almost every day have a special place in her heart, too.

"We have people that come eat every day," she said. "We spoil them and take care of them. We've recently lost two of our older gentlemen and it's heartbreaking when they're not there anymore."



LaFollette resident Joe Bonomo is a prolific, successful artist, and is passionate about portraiture. He spent many hours in Anderson County recently photographing people in town and learning a little about them, and then going back home and creating their portraits.

To find out more about Bonomo's art, visit bonomoart.com, on Facebook at Facebook.com/artofjoebonomo, and on Instagram at @bonomoart.

Crystal Huskey is a writer for multiple outlets in East Tennessee.

This series, however, is only available in The Courier News.