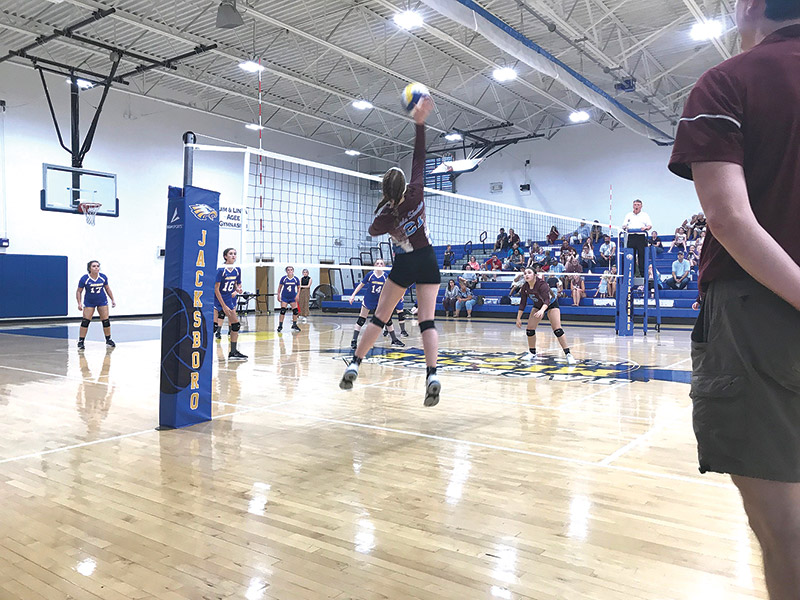 The 2019 NMS Lady Senator Volleyball team began their season with two wins over Area 2 rivals Jacksboro and Clinton last week.

On Monday, the Lady Senators travelled to Campbell County to take on the Jacksboro Eagles. Starting their first match of the season in

a hot, unairconditioned gym away home might have been a problem for some teams but not the athletes from Norris.

The Lady Senators jumped out to an 8-1 lead behind to agressive serving of Eberle Mayes. After short run by Jacksboro to make the score 8-6 and a Lady Senator time out, Norris got back on track as Emma Neff toed the serving line.

Thirteen serves later the score was 22-7. After a couple of side outs Norris' Emily Mustard finished out set 1 giving Norris the victory 25-7.

The second set saw multiple Norris substitutions but the outcome was still a decisive Lady

Senator victory of 25-11. Norris seeing action in the second set were; Kyra Damewood, Jada Seiber, Haven Swanner, Madison Phillips, Ryanna Comer, Catelyn Tackett, and Makyla Lowe.

Thursday the team headed across the county to take on the Clinton Hawks.

The Hawks are coached by volleyball legend and Norris-native Lorri Pointer Johnson. Coach Johnson is building a strong program at CMS and the Lady Senators knew it would not be an easy night.

The first set began with another serving run by NMS setter Ebby Mayes who helped NMS vault to an early 12-0 lead.

NMS outside hitter Emma Neff followed

up Ebby sevring with 5 points and 2 aces of her own to bring the Lady Senator lead to 18-4. Middle blocker Kyra Damewood dominated net play during the Lady Senator runs with sever-

al stuff blocks and kills. However, the Hawks

were not giving up and fought back into the set with a run of 8 points before Norris closed out the set 25-17.

The parisan crowd at CMS helped Coach Johnson's Hawks start strong in the second set with leads of 3-0 and 9-6. Just when NMS coach Jeff Harshbarger was considering his first timeout of the night, the Lady Senators won a sideout and Emily Mustard stepped back to serve. She ripped off 12 straight service points vaulting Norris into a 20-9 lead. The Lady Senators then cruized to a 25-16 victory to remain a perfect 4-0 in sets won and 2-0 in matches won.

Norris continues Area 2 play at County-Rival Robertsville and Jefferson on August 26 at Robertsville. On Tuesday, August 27, Norris plays at home versus Horace Maynard. Varsity matches start at 5:30 and all are welcome.