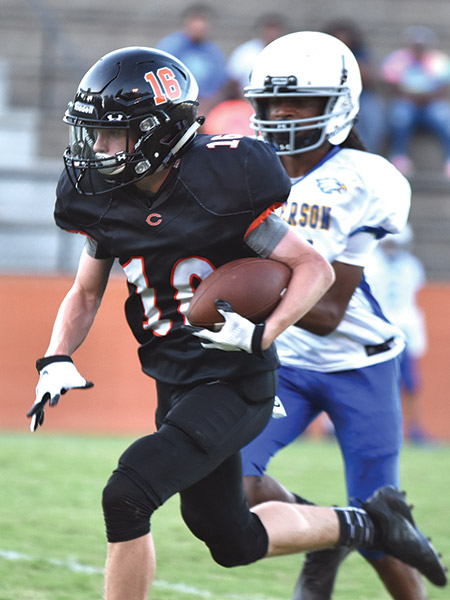 Clinton Middle hosted Jefferson Middle on Thursday, Aug. 29. The final score was 38-8 in favor of Clinton.

The game seemed mismatched from the start with Clinton dominating Jefferson on pure physicality from the start.

Clinton, though, seemed to have the same problem that lots of teams are having this week – personal fouls, mostly late hits. It's hard saying that because it's much easier to point at a single thing and say that if Jefferson had only passed more, or only ran more to the left, or something similar, that they might have won, or, at the very least, come much closer.

Unfortunately for Jefferson, it seemed as though Clinton simply had them outmatched. They played harder, they hit harder, they ran faster – and it's as simple as that. At the end of the half, it was already 16-0.

Clinton's Luke Hensley had a fantastic game, scoring multiple touchdowns for Clinton, who scored two-point conversions on all but their very last touchdown.

Wesley Phillips as well stood out from the crowd with a long run of close to 50 yards on the very first play of the second half, resulting in a touchdown on the second.

Scooby Howard, as well, carried the ball hard to score the extra points for Clinton in a two-point conversion where almost the entirety of both teams stood pushing against one another and the play turned into a contest of brute strength alone.

There were moments when Jefferson shown through, including an incredible run by their quarterback through Clinton defenders, sidestepping and spinning his way halfway down the field – but it wasn't enough, and it was too little too late. Jefferson's only score of the game came with less than a minute left in the fourth quarter.