Dragons show grit facing one of state's top teams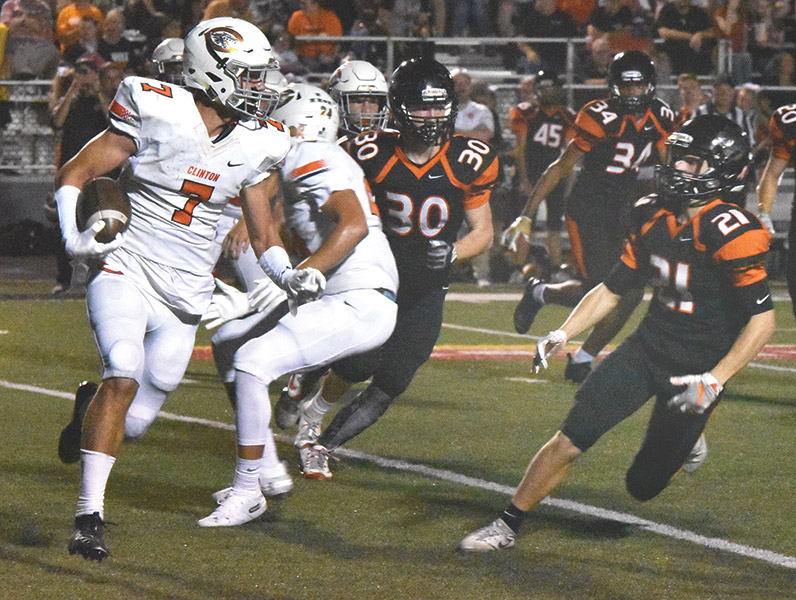 Clinton travelled to Powell on Friday, Aug. 20 for a region game. They came away from the night with a loss after coming up on the short end of a final score of 48-7.

The game wasn't in Clinton's favor from the start, but they continued to fight even as Powell's score climbed higher. Their only Dragon score came in the second quarter from a 20-yard pass by Trace Thackerson to Eli Deshomme.

One of the most striking parts of the game was the sheer amount of penalties assessed against both teams. Clinton pulled 11, losing 82 yards, while Powell pulled 13, losing 147 yards.

The reason for the disparity between the two was mostly due to the nature of the penalties. While Clinton's penalties were mainly off-sides, holding, and other penalties occurring during the natural play, Powell pulled more personal fouls and unsportsmanlike conduct penalties.

The atmosphere was electric and, from the sidelines, it looked as if the players on the field had to be separated on more than one occasion during the course of the night. During one possession, Powell pulled so many penalties that, by the time they were all assessed, they couldn't give the full penalty anymore and had to, instead, give half the distance to the goal.

When all was said and done and the ball moved back to its place, it was third down and 50.

Clinton rushed for 68 yards across 32 attempts, to Powell's 243 yards across 26 attempts. Josh Graham led in rushing yards with 21 yards over four plays, while Blake Cooper and Connor Moody both tied for second place with 20 yards apiece.

On the passing side, Clinton didn't fare much better, finishing with a total of 66 yards to Powell's 243. Clinton held the ball much longer than Powell, totaling 29:55 to Powell's 18:05.

The only place Clinton seemingly beat Powell was in return yardage, finishing with 114 yards to Powell's 68.

In the fourth quarter, the TSSAA mercy rule kicked in and the clock ran continuously until the end of the game.

It takes a lot of courage to face the first place team in one's region and the 13th-ranked team in the state, and even though they didn't win, Clinton deserves some amazing props for playing as hard as they did and not giving up. It says a lot about how much they believe in their team that they continue to give it their all despite a hard start to the season. Clinton plays Oak Ridge at the Wildcats' home field on Friday.

Sept. 27.