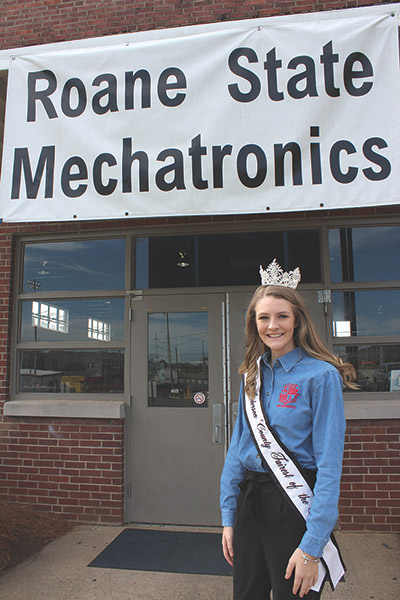 When Katelyn Martin is not studying how robots are assembled and work, she's wearing a crown and representing Anderson County at parades and other public events.

Martin is a Middle College student in the innovative Roane State Community College program that enables high school students to obtain an associate's degree at the same time they receive their high school diplomas.

Middle College students attend Roane State classes in the mornings and return to their respective high schools in the afternoons to complete studies required for graduation.

Martin is also this year's winner of the "Fairest of the Fair" competition that's a longstanding and popular tradition during the annual Anderson County Fair, held in July. During her reign as "Fairest," she said she often uses her many public appearances to talk about Roane State and its mechatronics program.

"I have wanted to be an engineer ever since I started high school," said Martin, 17, a senior at Anderson County High and the daughter of Troy and Cindy Martin of Anderson County's Heiskell community.

Mechatronics is a branch of engineering that focuses on the engineering of both electrical and mechanical systems. It includes robotics, electronics, computer and telecommunications systems and product engineering.

Roane State launched a program to award associate's degrees in mechatronics last year, "and we're the guinea pigs of the program," Martin said.

A dozen students from the Oak Ridge and Anderson County school systems, along with a home-schooled student, are enrolled in the program.

A state grant is fully funding the middle college students' tuition and other expenses, but placed a cap on how many students could be involved.

"I personally have loved it," Martin said. Program director Gordon Williams "has been extremely awesome, and all of the instructors have gone above and beyond," she said. "They teach us more than the required material."

Martin has already received certifications in one type of robotics as well as in programmable logic controllers. She said she's focusing on robotics as a career and plans to transfer to Tennessee Tech next fall and continue in the mechatronics program.

She is also taking extra math classes and other courses at Roane State "to get ahead" for her coming transfer to Tennessee Tech.

Then there are her duties as the "Fairest of the Fair." Martin said she was "very surprised" to win that crown and takes her role seriously. She said she represents Anderson County in various public functions, including parades and festivals, and will be involved in the East Tennessee Children's Hospital's "Fantasy of Trees" during Thanksgiving week.

During those appearances, "Everybody wants to know what I want to do, and I talk about mechatronics," she said.