No start time or timetable revealed, but eatery will close for short period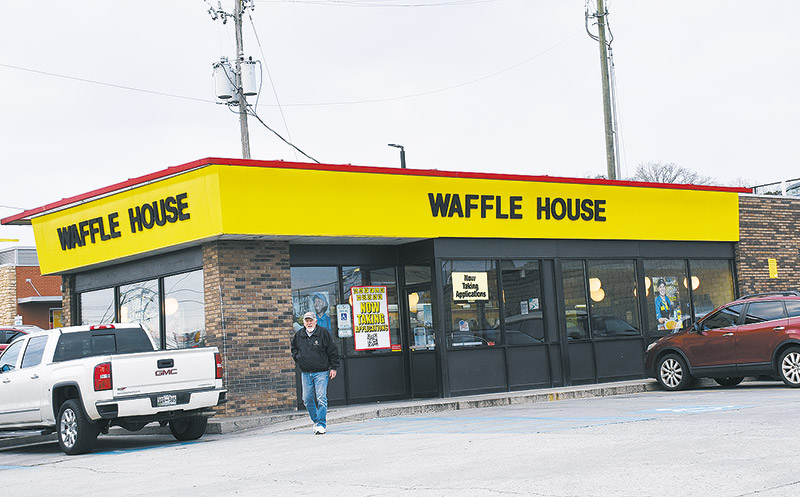 Clinton's favorite waffle restaurant will be closing soon. But don't worry – it will be coming back slightly bigger and better than ever, its owners say.

The Waffle House at 2225 N. Charles G. Seivers Blvd., near the entrance to Walmart, will be torn down and completely rebuilt in a project that could take from four to eight months, said Curtis Mount, senior vice president of Rocky Top Waffles LLC., the franchise owner of the store.

"This restaurant will be rebuilt sometime this year in the same location, but we don't know yet when it will be done," Mount said Monday. "It will be a whole new building."

He said it will be just a little bit larger than the present building, which has been open in that spot for more than 30 years, and will have "about eight more seats, if that," than the current Waffle House.

As to why it's being done, Mount said: "Every 30 years we tear one down and put a new one in."

The eatery's current staff of about 30 will be offered temporary positions in nearby Waffle House locations operated by the same company, which include the ones in Caryville, Powell and Oak Ridge. "None of the employees will be left out in the cold," Mount said.

Although Mount could not give a timetable yet for the project, he said Rocky Top Waffles has already applied to the city of Clinton for a building permit. He declined to say how much the rebuild would cost.

Some employees at the Clinton Waffle House said they have been told that the restaurant could be closed sometime in February for the rebuild. Social media rumors have suggested that February would be the start date as well, but Mount said those are "just rumors."

Rocky Top Waffles is the oldest Waffle House franchisee – and was the first, Mount said. The franchisee is based in Alpharetta, Ga., and has three divisions.

One division is in upper East Tennessee, and it has 33 Waffle House locations from Bristol/Kingsport/Johnson City to Caryville, Lenoir City, Pigeon Forge and Sevierville. It includes the Clinton, Powell and Oak Ridge stores and all Knoxville-area locations.

There is another Rocky Top Waffles LLC. division in the Chattanooga area, and a third one in north Georgia, he said. All have the same owners.

The first Waffle House was opened by Joe Rogers and Tom Forkner on Labor Day 1955 in the Atlanta suburb of Avondale Estates. The parent company, headquartered in Norcross, Ga., now boasts more than 1,500 Waffle House locations, both company-owned and franchises.

Waffle House allows only employees to become franchisees, according to company spokeswoman Caroline Schiltz.

"Being privately held, Waffle House does not franchise to the general public," she said in an email. "The first thing on the criteria list to be considered for a franchise is you are required to be a current employee."

Some Waffle House trivia, from its website:

• All stores are open 24 hours a day, seven days a week, 365 days a year.

• All food is prepared fresh, cooked to order and served on real china in a kitchen that is out front and in full view of customers.

• Waffle House holds the title as the world's leading server of waffles, omelets and T-bone steaks.

• Besides the signature waffles, menu favorites include Bert's Chili and Lib's Patty Melt, along with hash browns served eight different ways.

The company also is famous for staying open in the middle of hurricanes and other disasters, if its stores can do so safely. In many of those cases, company executives are on hand to cook and serve food to customers in place of regular staff.

Many Waffle House employees have long histories with the company. Mount, a Knoxville native, said he has been working for Waffle House the past 45 years, having joined the company as a cook on the third shift at a former location on Cedar Bluff Road in Knoxville.