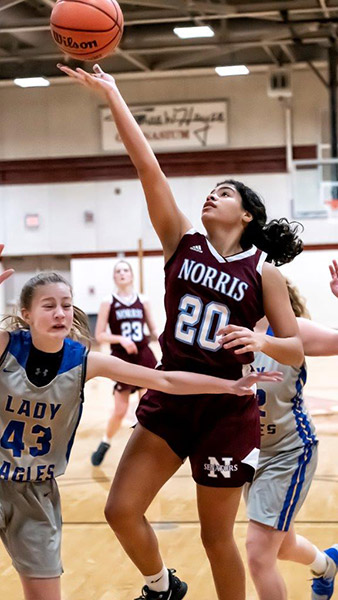 The Norris Middle School girls finished their season with a loss against Jacksboro on Saturday. Despite the score being 26-25 in favor of Jacksboro with two minutes left, Jacksboro ended up winning 41-26.

Two injured players got the chance to play against after being gone most of the season.

Head Coach Rob Cummings said that Jacksboro just hit a hot streak at the right time.

"Probably the best we've done all season long," he said. "When we played them earlier in the year, it was over in the first quarter. We got beat by 28 then. It was close this time, and then they hit three treys just back to back to back and it really took the air out of us."

Overall, Cummings said he's pretty happy with the season. The Lady Senators finished 12-8 after starting the season strong. At one point, they were 7-1.

"We ran into the meat of our schedule right as two of our girls got hurt, so we had to play sixth-graders, and that was hard on us," he said.

Still, Cummings said Carly Kitts and Emily Mustard stepped up during the season. Kitts had the second-highest single season since 2010. Kitts passed her mother, who was sitting at third highest for a single season, and then passed the former holder of second place. Kitts missed first place by nearly 20 points. First place is held by Savannah Cummings.