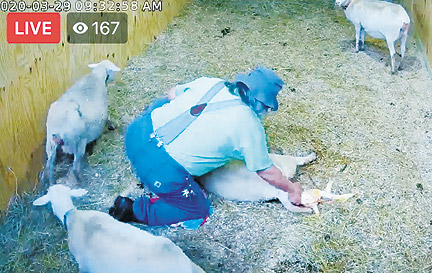 The lambing season has arrived at Clinton's Little Ponderosa Zoo and Rescue.

With six pregnant ewes in a pen under live video streaming, the first to give birth did so on camera on Sunday morning (March 28), with a little black female lamb arriving at 8:55 a.m.

Then the same mom popped out another baby – a white male – at 9:33 a.m., this time with zoo founder and director James Cox assisting with the delivery after part of the lamb had already appeared.

Five more ewes are expecting, and the live video stream will continue on Facebook and the zoo's website until all of them have delivered their babies, most likely within the next 10 days, Cox said Monday afternoon.

The little black lamb – which the zoo says actually turned out to be more brown than black -- was already on her feet toddling around her mother by the time her brother was born 33 minutes later.

"We put them in the enclosure on live stream to let people at home see," Cox said. "It's educational and a good experience for the kids. A lot of parents emailed to say they love what we're doing. Since nobody's going out right now, we have to carry it to them."

The gestation period for sheep is just under five months, so as usual, the Little Ponderosa timed the breeding of the ewes last fall to correspond with Easter, Cox said.

"Five more are still expecting, so I'm staying here around the clock," he said. "We have monitors so we can keep up with what's going on."

Cox said the zoo always plans for each year's spring crop of lambs to arrive in time so the babies can be used in Easter programs at churches.

"One of the ways we fund the rescue part of our operation is that we use lambs throughout the year to help us get donations," he said. "We take them to churches and other places for kids to pet, and we get donations in return." Of course, that won't be happening this Easter, he said.

The Little Ponderosa "hopes to have six to 10 lambs in there [the enclosure] running and playing," Cox said.

Ewes normally give birth to one or two babies per pregnancy, with the majority having two like the one did on Sunday morning. While some sheep give birth to as many as three, Cox said the Little Ponderosa "has never seen three at a time."

The live stream of Sunday's twin births brought some outside interest to the zoo, Cox said. "We had a company pick that up to put on the world news."

The zoo recently has been asking for help from the community for donations of meat, grass hay and money to help feed the approximately 900 animals housed there. Fresh meat donations, which usually are as much as 300 pounds a week from area Walmart stores, had dropped off significantly as stores experienced shortages because of people overbuying on their coronavirus fears.

"That has eased somewhat, so we're good on meat now for a few weeks, and produce is good," Cox said. "Stores seem to be getting back to normal. But we're still way short on visitors, which is what usually pays our feed bills, so we still need money for special feed."

Monetary donations can be made online at the zoo's website, littleponderosazoo.com, Cox said.

The Little Ponderosa, which is still recovering from a disastrous fire two years ago, remains open to visitors from 10 a.m. to 5 p.m. Monday through Saturday and noon to 5 p.m. on Sunday.

It's a safe place to visit because only outdoors exhibits are open, and no one is allowed inside the building, Cox said. Visitors can walk through the outdoors areas without have to get close to anyone else.

Regular admission prices are $15 plus tax for ages 18-64; and $10 for juniors (3-17) and seniors (65-plus). Children under 3 are admitted free.

Buckets of feed are available for purchase for zoo visitors to give to many of the resident animals.