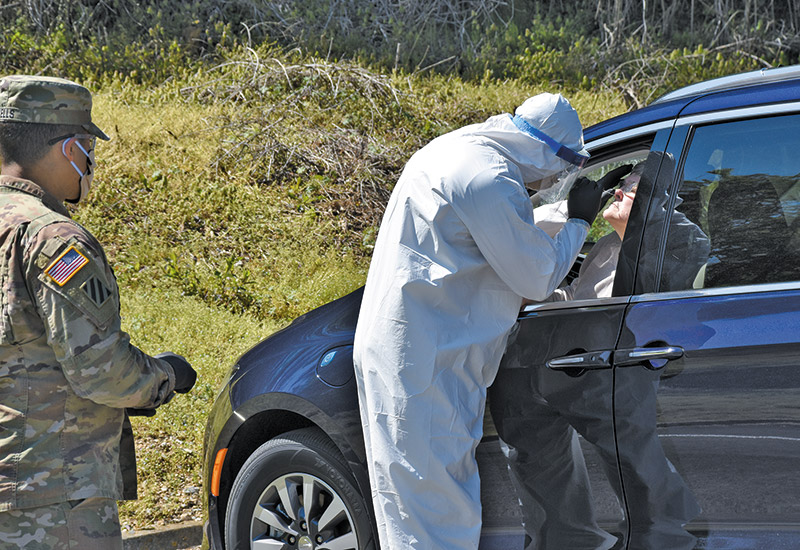 Free drive-up coronavirus testing is now available at the Anderson County Health Department at 710 North Main St. in Clinton.

There are no requirements to meet — you do not have to have any symptoms.

The test is quick — a National Guard medic or nurse sticks a long, wooden cotton swab into each nostril — one at a time — for about three seconds each.

There is no chance of exposure, either. Those being tested remain inside their cars as the test is administered through the open car window by a tester wearing protective gear.

Test results are given to you over the phone within four to six days.

The tests are done Monday through Friday from 9-11 a.m. and 1-3 p.m. in the health department's parking lot. Appointments are required and can be set up by calling 865-425-8801.

So, what's it like to get tested? Two Courier News staff members – including this writer – got the tests done at the Anderson County Health Department last Thursday.

The test is uncomfortable, for sure, but it's over very quickly. In my case, there was some slight discomfort for a few minutes afterward, but it was far from being unbearable.

Neither of us, nor my wife, who also got tested Thursday, had experienced any of the symptoms of a COVID-19 infection beforehand, but we decided to take the test for reporting purposes (at least in my case) and peace of mind.

All three of us called to make our appointments on Thursday afternoon and were given nearly immediate time slots to appear. Appointments are spaced out apparently in 10-minute intervals, as it takes no longer than that to have the test done.

At the rear and side of the health department parking lot, several spaces are reserved for testing, and are marked with cones spaced two slots apart on the pavement.

There were two men stationed in the parking lot to direct traffic and conduct the tests.

In our cases, the actual tests were administered by a Tennessee National Guard medic dressed in a white hazmat suit with face mask and shield.

He identified himself as Sgt. Benjamin Lowery of Mt. Carmel. He was being assisted by Spc. Preston Wells.

Lowery said both men were participating in the testing as volunteers, because Tennessee Gov. Bill Lee has not officially activated any Guard units into service so far in the fight against the virus.

"We're here completely on a voluntary basis," Lowery said.

He said the testing that began last week at the local health department was going well, and that most people were tolerating the nasal swabs without much discomfort or reaction.

"I did have one person grab my arm and pull the swab out, though," he said.

A health department official said the daily testing there has been busy but not crowded, and will continue until the department is told to stop.

And as for my test, the answer came by phone on Monday – Negative! As for my spouse and my co-worker, I won't presume to share their test results – federal HIPAA (health care privacy) rules being such as they are.

The clerk who called me with the result reminded me to continue to observe social distancing to avoid becoming exposed to the virus.

And, of course, she noted that my Thursday test was just a snapshot in time. Testing negative one day does not mean one would not test positive the next time – perhaps even a day later.

That's why the health department is hoping to add testing for COVID-19 antibodies to its services as soon as possible.

That test would show whether a person has antibodies in the blood that would have been generated by the body's own immune system if the person had previously been infected by the coronavirus.

There is hope that people who have recovered from the virus will have enough of those antibodies built up in their blood to prevent a recurrence of the disease, at least for a while.

For more information about testing locally or to make an appointment, call the Anderson County Health Department.