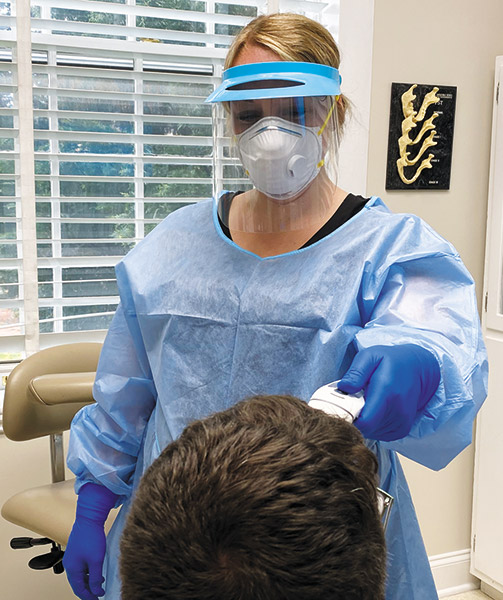 Clinton-area dentists have begun reopening their practices for routine dental care after being mostly closed for the past two months in response to the coronavirus pandemic.

They are practicing some new safety protocols, they say, including taking the temperatures of staff and patients when they come in, wearing double masks and other special protective equipment, and keeping waiting rooms clear of patients.

But some, such as Dr. Michael Beeler at the Masterpiece Smiles clinic on Bethel Road in Clinton, say many of the sanitation procedures are ones that dental practices already were using before the pandemic began.

"Our sterilization processes are pretty much the same as they've always been," Beeler said. "We're wiping down everything. We have such good procedures in place that people should feel safe in a dental office. I like to think thoroughness and quality never go out of style."

The same is true at the offices of Dr. Thomas Myers in downtown Clinton, where practice manager Betsy Myers said hygiene has always been a top priority.

It's also the case at the clinic of Dr. Daniel Startup in Norris, whose office manager, Melissa Williams, said the staff "was already using all of the personal protective equipment."

"We always wear gloves, masks and lab jackets," she said.

But there are a lot of new procedures in place, all of the clinics reported.

"This has affected everybody's life [in the dental industry], even more than AIDS or HIV," Beeler said. "This is different because we're not dealing in risky behavior; you can get this virus just from breathing on someone.

"We have all kinds of equipment," Beeler said. "As in most dental offices, we want to minimize the risk to our employees and patients. In our practice, and in most that are being progressive, patients are being screened before they come in, asked some questions over the phone, such as have they been out of country, ridden in an airplane recently, had any coronavirus symptoms.

"When they come here, we ask them to wait in the car, to come by themselves, and don't bring any kids or friends. We see one patient at a time. When the patient comes in, we have them use hand sanitizer first thing. We ask them the same questions again. They must have their masks on."

In most offices, patients are not required to sign in, and nobody is left sitting in the waiting room.

"We usually have them come back right away," Beeler said.

Beeler reopened his office on Monday (May 18), even though under Gov. Bill Lee's orders, dentists were permitted to reopen as early as May 6.

"We're seeing patients only on Mondays, Wednesdays and Fridays for now," Beeler said. "We could have opened May 6, but chose not to. We had to make sure we had all of our personal protective equipment in place. We're also fogging the office every night after being open for the day, using anti-viral and anti-bacterial fogging. We don't have to do that, but we wanted to. Our staff say they feel safer here than they do in their own homes."

Myers Family Dentistry reopened on May 6, Betsy Myers said, and immediately faced a backlog of more than 500 appointments that had been canceled when the clinic closed nearly two months ago.

"It's certainly been different," Myers said. "We do a morning huddle to look at the patients of the day, which is normal; but now we take temperatures of the staff. And we're asking patients about any travel, or symptoms of COVID. We had it all pretty well fleshed out by the time we reopened."

The Myers practice had something of a surplus of PPE on hand when the crisis hit, so it was in better shape than some when it came time to reopen, Betsy Myers said. She added that the clinic is operating Mondays through Thursdays now, but will begin opening on some Fridays to help clear a backlog of patients wanting hygienist services.

The practice also will not be closing in early July for its usual one-week summer break, Myers said.

At the Startup dental clinic in Norris, the practice reopened last week, and had "more than 300 patients on our call list for cleanings," office manager Williams said. The office is open Mondays through Thursdays.

"We added some Plexiglass for the window, have put out hand sanitizer," she said, "To me, we're doing everything we should be doing. We have even added face masks and shields over our N-95 masks.

"We're glad to be back, for sure," she added.