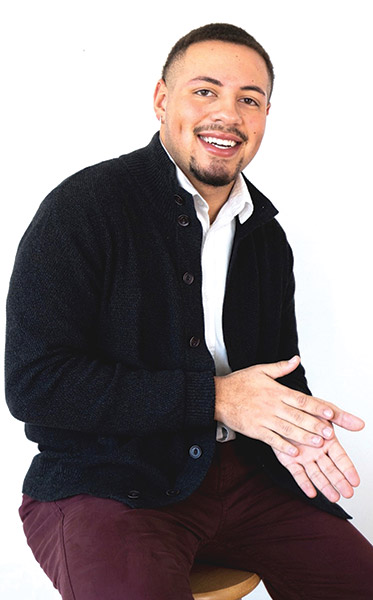 Kane Taylor has some advice about breaking into show business.

"Shoot for the stars," he said, laughing.

Blessed with charisma and an outgoing personality, the 20-yearold recent Roane State graduate has already appeared in at least 16 television shows in the past year.

He's had small parts in several crime shows on the Investigation Discovery Channel, including "Murder Chose Me," "ATL Homicide," and "Killer Couples."

"I've always dreamed of becoming an actor," said Taylor, a Clinton resident. "I never thought it would happen."

Taylor said the best two seconds of his life were when he first saw himself on a TV show, playing basketball with the main character on an episode of "Murder Chose Me."

That occurred while he was a senior at Clinton High School. His response to his two seconds of fame?

"I was freaking out," he said.

And now he's taking every part he's offered

by production company Jupiter Entertainment through his talent reps, the STAIR Agency of Clinton.

"I'm taking them as a learning opportunity and a stepping stone for the future," he said.

And he's getting paid to do what he loves. "As soon as I found out I was going to get paid, it was the best moment ever," he said.

"Kane came to the STAIR agency with

little to no experience or knowledge in the acting/ modeling industry," said co-owner Adam Stair. "He has determination and a kind and welcom-

ing personality and jumped right into it."

"He's a hard worker and a goal-setter and is very reliable," Stair added.

"The nationally televised shows that have worked with him enjoy him and ask for him often."

Acting has been in Taylor's blood for years. "I've always loved it," he said.

He tried out for a small part in "Little Women" while he was a freshman at Clinton High School, only to get a callback for the lead role.

Things started popping after he said he "randomly" dropped

in at the offices of The STAIR Agency in downtown Clinton.

"I auditioned on the spot," he said, and acting offers started coming in.

"I've never been more grateful," he said, adding that he's become good friends with owners Adam and Emily Stair. "We've become close. You can tell they want what's best for everybody's future."

Taylor said he decided to enroll at Roane State because he was adrift after high school graduation. "I didn't have any idea what to do," he said. "To get two free years of college [through the Tennessee Promise scholarship program] was perfect for getting my feet wet and to start experimenting with whatIwanttodointhe future."

Taylor credits Roane State educator Mi-

chael Golebiewski for inspiring him after he started taking theater and writing classes at Roane State's Oak Ridge Branch Campus.

He graduated in May with a major in mass communications. He spent part of his last semester seeing things from the other side of the camera in a video production class taught by Associate Prof. Matt Waters on Roane State's flagship campus. "That really opened my eyes," he said.

"I think Roane State is a great place," he said.

"It's given me an idea of what to expect from a university."

Roane State is a twoyear college providing transfer programs, career-preparation programs and continuing education. Founded in 1971, the college has locations in Roane, Campbell, Cumberland, Fentress, Knox, Loudon, Morgan, and Scott counties as well as a branch campus in Oak Ridge. For more information, visit roanestate.edu.

Remember, eligible adults can now attend Roane State tuition-free with the new Reconnect grant.