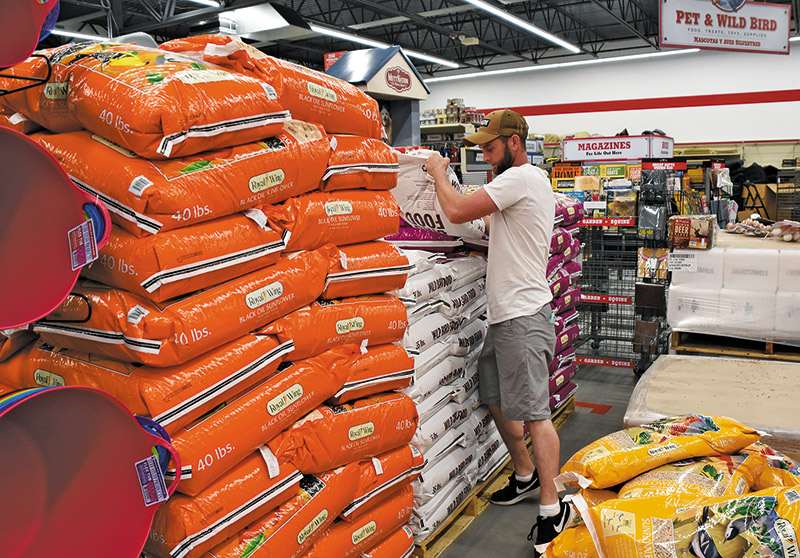 It's finally here!

The new Clinton Tractor Supply store officially opens at 8 a.m. Saturday (June 20) next to Fox Toyota off Interstate 75 at Exit 122.

While the grand opening ceremony will have to wait a while because of coronavirus fears, the store will open for business at 8 a.m. Saturday, and will operate seven days a week, said Brent Davis, the store manager.

"I'm very excited; I think this store is great for the community," Davis said this past weekend as employees finalized the stocking of shelves, and contractors made last-minute adjustments to the building and its components.

Based in Brentwood, Tennessee, Tractor Supply Co. has nearly 1,850 stores, billing itself as a "rural lifestyle retailer" offering "essential resources and products with pickup [and] delivery options."

According to an announcement of the Clinton store's arrival, the company said it is "committed to providing essential, everyday products that customers need like animal feed, pet food and supplies, propane, fencing, garden supplies, home supplies and more."

Besides in-store shopping, the new Tractor Supply allows customers to buy online and pick up products in the store, or by using contactless curbside pickup, usually within an hour of ordering, the company said.

"At Tractor Supply, we understand the value of providing essential needs like pet food, animal feed and home supplies to our customers in the Clinton community," Ward said. "Our team members live the same lifestyle as our customers, and we're excited to supply them with the tools, information and resources they need to live life on their own terms."

He said the Tractor Supply mission is to "provide a one-stop shop for the community, serving farmers, livestock and pet owners, ranchers, part-time and hobby farmers, gardeners, homeowners, tradesmen and others."

One special feature of this Tractor Supply will be the do-it-yourself pet-wash station in a separate room in the rear of the store.

"People can come in and bathe their own animals," Ward said

Ward previously was manager of the Oak Ridge Tractor Supply, but said he jumped at the chance to take the manager's job at the new Clinton store because "I live about a mile away."

He no longer has to make the long drive to Oak Ridge to go to work.

On Friday morning, he hired the 14th employee for the store, which will have a total of 16 associates, including himself, Ward said.

Store hours for now will be 8 a.m. to 8 p.m. Monday through Saturday, and 9 a.m. to 7 p.m. Sunday.

The store also has some strict protocols in place to protect staff and customers during the coronavirus pandemic, Ward said. No more than 50 customers will be allowed inside at a time, and social-distancing rules will be in place, with people asked to stay six feet apart in checkout lanes and store aisles.

Employees will be wearing masks and gloves, but customers have the option of wearing masks or not, he said. Shields will be in place at the checkouts to separate workers from customers.

There will be a greeter at the door, and some workers will be dedicated to cleaning and disinfecting shopping carts and other touch points, including checkout counters, between each customer's use, Ward said.

Tractor Supply customers will be able to access a wide range of products including all pet and animal feeds, propane tanks, cleaning supplies, gloves, trash bags, certain food items and more. The store will carry top brands such as Purina, Carhartt, Blue Buffalo and Hobart, as well as products exclusive to the company.

According to the release, other COVID-19 practices at the store include:

• Increasing inventory supply for essential products such as livestock feed, equine feed, pet food and other crucial consumable items.

• Adding employee hours to continue providing customer service and promoting safety in store.

• Investing in technology through Mobile Point of Sale, Same Day/Next Day delivery capabilities and contactless payment options to enhance the safety of customers' shopping experiences and provide greater convenience.

• Conducting additional daily cleanings in stores to maintain a safe shopping environment.

• Endorsing the CDC's social-distancing guidelines to limit exposure to other individuals by marking floors and adding signage to help customers and team members maintain safe distances.

• Offering Contactless Curbside Delivery for Buy Online, Pickup In Store orders with a minimum of two parking spots allocated for these services. Customers can call the store phone number once they arrive at the store, and a team member will bring the order to their vehicle.

• And dedicating an exclusive shopping hour for high-risk customers and seniors 60 and older every Wednesday from 8 a.m. to 9 a.m.

The store will also support local animal shelters, 4-H clubs and FFA chapters and more.

Customers can sign up for Tractor Supply's Neighbor's Club loyalty program, making them eligible for member-only offers, birthday specials, personal purchase summaries and receipt-free returns.

The new store is at 320 Fox Family Lane. Entry to Fox Family Lane is between Shoney's and Weigel's on Andersonville Highway, just east of I-75 Exit 122.