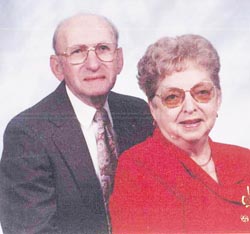 On March 19, James and Purn Phillips will celebrate their 70th wedding anniversary. Married on March 20, 1947, in Roswell, Ga, they survived through World War II, a depression, three children, and 70 yyears of togetherness.

Three children are Steven Phillips, Jerry Phillips (deceased), and Celeste Ivey, all of Clinton. There is also four grandchildren; Amanda McMillan, Andrea Tindell, Madison Mefford, and Tony Phillips (deceased). They have also six great-grandchildren; Hannah and Cavin Tindell, Dominic, Mason, Avery and Eli McMillan.

Those wishing to celebrate with us are requested to arrive at their life long home in Dutch Valley around 3 p.m. Sunday March 19. They always loved the peace and quiet of Dutch Valley and the visits of friends, neighbors, and family.