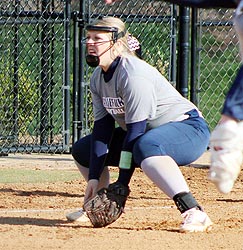 It was truly a tale of two games as the Anderson County Lady Mavericks traveled to Athens for the Tiger Classic on Friday.

They beat South Doyle 12-0 in five innings in the opener.

Anderson County enjoyed a five-run second inning, a six-run third, and added one in the fifth.

Mallorie Overton went 2-2 with a grand slam, a double, and six RBI.

Maddie Sickau was 1-2 with a double and two RBI while Reeves was 1-3 with an RBI.

Emelia Yelencich was 2-2 with a double while Courtney Lively was 1-1 with an RBI.

Hannah Bruce got the start and the win with two shutout and hitless innings.



Kelsey Giles pitched three scoreless innings of relief to close out the game.

In the second game of the afternoon, the Lady Mavs experienced the other end of a lopsided loss as they fell to Ootelwah, the number one ranked team in the state (and 33rd in the nation) by a score 18-0.

The Lady Owls posted a lone run in the first before tacking on seven in the second, and 10 in the third.

Five errors in the field for the Lady Mavs did not help either.

Offensive highlights were few for Anderson County as Ootelwah starter Kayla Boseman, who has already committed to Mississippi State, was dominant inside the circle.

Emilee Fowler was 2-2, while Molly Muncy and Yelencich each went 1-1.

The Lady Mavs were scheduled for two games on Saturday but they were rained out.

The Lady Mavs dropped a tough one at Christian Academy of Knoxville on Monday by a score of 13-6.

Anderson County jumped out to a 3-0 lead in the first and added a run in the second to lead 4-0.

The Lady Warriors answered with four runs in the bottom of the second to tie the game and blew it open in the fifth with a nine-run explosion.

The Lady Mavs tacked on two runs late.

Yelencich went 3-3 with two doubles and four RBI to lead Anderson County's offense.

Overton went 2-3 with a double and two runs scored while Lively was 1-4 with an RBI.

Bruce and Giles pitched for the Lady Mavs but the normally effective each battled illness as well their opponents on the field.

Head coach Allen Russell pointed out that Anderson County left 12 runners on base in the contest.

"We hit the ball harder than they [CAK] did. They just found holes," he said.

They return to action on Friday and Saturday when they will play in a tournament at Jackson County. Times and opponents are to be announced. Anderson County will visit Oak Ridge on Monday (March 27) at 5:30 p.m. They will host Gibbs on Tuesday at 5:30 p.m.