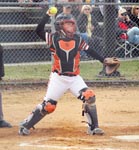 The Clinton Lady Dragons picked up their first district win of the season in a big way with a 16-2 win at Campbell County on Thursday.

Skylar Newby drove in seven runs on two home runs — including a grand slam to lead Clinton. She also had a double in the contest.

Lexie Cochran went 3-4 with a triple and five RBI while Lacy Smith went 1-2 with a double and two RBI.

Cameron Leinart, Nikki Jones, Halie Martin, Sophie Seivers, and Karleigh York also had hits for the Lady Dragons.

Newby also pitched and got the win. She went four innings and allowed two runs on three hits with four strikeouts.

Clinton committed no errors in the contest.



The Lady Dragons plated six runs in the second, one in the third, and nine runs in the fourth.

Clinton collected 15 hits.

The Lady Dragons also stole nine bases during the game with steals by Halie Martin, Lexie Cochran, and Lacy Smith while York, Seivers, and Lexie Jacobik each had two steals.

Games with Knox Central, Fulton, and Tennessee High were postponed due to weather and will be rescheduled at a later date.

On Monday, Clinton played host to Halls, one of the top teams in a talent-laden District 3-AAA.

The Lady Red Devils posted a dominant performance in a 20-0 win over the Lady Dragons.

Halls scored four in the first, five in the second, four in the third, and seven in the fourth and final inning.

Clinton collected just three hits in the contest — singles by Cochran, Jacobik, and Martin.

"This a young squad. We're building. It's a building time and in that building time you've got to learn to be patient and you've got to learn to trust yourself. This team is lacking — and needing right now — confidence in themselves," said Lecia Watson, head coach of the Lady Dragons.

The Lady Dragons will travel to Oliver Springs on Friday for a double header starting at 5:30 p.m. They come home on Monday, March 27, to face district foe Karns, also at 5:30 p.m.