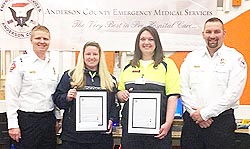 Graduates of Roane State Community College's paramedic program continue to receive promotions within area emergency medical services agencies, said David S. Blevins.

Blevins, director of EMS Education in the Allied Health Sciences Division of Roane State, said two paramedics, Carrissa Keathley and Misti Smiddy, have been promoted to the rank of lieutenant within the Anderson County EMS operation.

"They are great paramedics and strong additions to the supervisory team of Anderson County EMS," said Director Nathan Sweet, who is also a graduate of Roane State's paramedic program.

Keathley graduated from that program in 2007 while Smiddy obtained her paramedic license in 2012.

"Both have been excellent in the field, widely respected by peers," Blevins said. "They are also highly respected and recommended as preceptors for our EMS students and are quick to help a student that is needing a little encouragement."

To learn more about Emergency Medical Services programs at Roane State, visit roanestate.edu/ems or contact Blevins at (865) 354-3000 ext. 4768 or blevinsds@roanestate.edu.