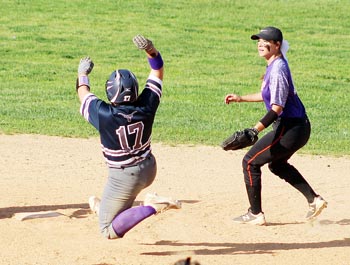 The Anderson County Lady Mavericks got a regular season sweep over visiting Karns Tuesday night, winning 6-3.

Karns took a 2-0 lead in the first but the Lady Mavs scored a run in the bottom of the inning and tied the game in the bottom of the second. The Lady Beavers scored a run in the top of the fifth but Anderson County rallied with four runs in the bottom of the sixth to win the game.

Hannah Bruce pitched all seven innings. She allowed no earned runs on six hits. She also went 2-3 with a double and a crucial RBI at the plate.



Gracie Webb was 2-3 with a double and an RBI and Emilee Fowler was 2-3 with a double.

Maddie Sickau went 2-3 with an RBI while Jada Reeves went 1-4 with an RBI.

Mallorie Overton was 2-4 and Emelia Yelencich was 1-2.

"We're struggling right now popping the ball up. Late in the game we got a few big hits when it mattered," said Allen Russell, head coach of the Lady Mavs.

The Lady Mavs blew out rival Clinton 18-1 on Thursday at Lakefront Park.

Prior to the game, a brief ceremony was held as part of Alzheimer's Awareness night. Both teams wore purple in tribute to those battling and affected by the disease. [See "Focus on Anderson County" on page 7B for photos from the event].

Once the game started, it was pretty much all Lady Mavs.

Sickau led off with a walk, stole second and stole third. Webb then reached on a base hit scoring Sickau. Webb then stole second and Yelencich doubled to score her. Overton singled and moved Yelencich to third. Overton then stole second and both runners scored on a double by Molly Muncy. Muncy then advanced on a hit by Fowler and scored on a base hit by Bruce.

Nikki Jones led off with a base hit for Clinton and Skylar Newby followed with a single to move Jones to third. Newby took second on a wild pitch. Lexi Cochran hit a shot to third and reached on a fielder's choice as Jones was thrown out at the plate. Newby advanced to third on the play. Cochran stole second and Newby scored on an error but that was all the Lady Dragons could muster.

The Lady Mavs posted six runs in the second.

Reeves led off with a walk and stole second. Overton singled to score Reeves and then stole second. Muncy then reached on an error, moving Overton to third. A wild pitch moved Muncy to second and Fowler then singled to score Overton and advance Muncy. An error allowed Fowler to advance to second and Muncy to score. Courtney Lively doubled to score Fowler and Bruce singled to score Lively.

Anderson County added three in the third when Webb reached on an error and moved to third on a base hit by Overton. Muncy then reached on an error, which allowed Webb to score. Fowler then doubled to score Overton and Muncy.

The Lady Mavs wrapped up scoring in the game with four runs in the fourth.

Bruce pitched three innings for the win. She allowed no earned runs on two hits and struck out three.

Kara Bradley took the loss for Clinton as she pitched four innings and allowed 10 earned runs on 16 hits.

Fowler was 4-4 with two doubles and three RBI while Overton was 3-4 with two RBI.

Lively was 3-4 with two doubles and two RBI while Muncy was 2-4 with a double, two RBI, and four runs scored.

"Our bats heated up tonight and the best part about was they hit the ball on the ground. They hit some line drives right at them and some they couldn't handle. We just hit it hard," Russell said.

"We did what we were supposed to and hopefully we're getting back on track," he said.

For the Lady Dragons, Newby was 2-2 with a run scored. Sophie Seivers was 1-2 with a double as was Karleigh York.

"I felt like we played flat. For a game like that against Anderson County you've got to get up and our girls didn't," said Lecia Watson, head coach of the Lady Dragons.

On Friday, Anderson County traveled to Caswell Park in Knoxville for a weekend tournament hosted by Gibbs.

In the opener, the Lady Mavs bested Siegel 6-4 in five innings.

A four-run third inning gave Anderson County a permanent lead.

Kelsey Giles got the start and the win. She pitched all five innings and allowed four earned runs on 10 hits.

Lively was 2-2 with an RBI while Fowler was 1-1 with a double and an RBI.

Overton was 1-3 with a double and an RBI while Sickau and Yelencich each had a hit and an RBI.

"We started hitting the ball a little bit and we had a pretty good pitcher [Giles] going. She's not a big strikeout pitcher so they're going to put her in play so we have to play defense behind her and we did," Russell said.

In their second game Friday, the Lady Mavs beat Morristown West 5-3, riding another strong pitching performance by Giles.

After Mo-West scored a run in the top of the first Anderson County scored all five of their runs in the second inning and Giles made the lead stand.

She got the win as she pitched six innings and allowed two earned runs on eight hits.

Webb was 1-2 with two RBI.

Lively went 2-3 with a double and two RBI while Fowler was 2-3 with a double and an RBI. Sickau, Reeves, and Overton also had hits in the win.

"We played well. Our bats are starting to wake up a little — which is a good sign this time of year," Russell said.

Anderson County fell to Heritage on Saturday by a score of 12-0. Freshman Ashlynn Phillips was roughed up in her first varsity start as the Lady Mountaineers put up nine runs in the first. They added one in the second and two in the third.

"Ashlynn [Phillips] was a little nervous at the start. We didn't commit any errors but Heritage did a great job of hitting it where we weren't," Russell said. "We just didn't have much of an answer for them."

He explained he pitched Phillips to rest Giles to get her ready for bracket play in the tournament. Bruce is currently out of the lineup resting and treating a minor arm ailment. He hopes she will be able return in about a week or so.

The Lady Mavs had six hits in the game, all singles with one each from Sickau, Reeves, Fowler, Yelencich, Lively, and MaKenzie Jones.

In the last game of the tournament the Lady Mavs dropped a heartbreaker to DeKalb.

Anderson County took a 1-0 lead in the first when Yelencich drove in Reeves. DeKalb tied the game in the second. Playing past the allotted time limit, DeKalb scored on a walk-off hit in the sixth to win.

Giles went the distance and suffered the loss. She allowed no earned runs on just three hits.

Reeves and Yelencich had the only two hits for the Lady Mavs.

"Giles pitched a great game. She kept them off-balance. Her drop ball was working and we played really good defense behind her," Russell said.

Anderson County will visit Knox Central on Thursday at 5:30 p.m. They will host Union County on Friday at 6 p.m. The Lady Mavs visit Union County on Monday at 6 p.m. and host Clinton on Tuesday at 6 p.m.

The Clinton game will be Alzheimer's Awareness Night at ACHS with all proceeds raised donated to help fight the disease.