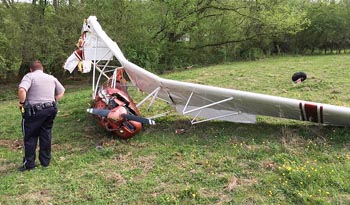 His ultralight aircraft was trashed, but Timothy Stringer walked away with minor injuries.

According to the Anderson County Sheriff's Office, Stringer, 40, Oliver Springs, was attempting to land his aircraft on a private grass landing strip in a field near Valley Drive when he crashed.



The field is near Stringer's Ray Lane home. The accident happened at about 3:30 p.m. Saturday, April 15.

"Stringer received minor injuries but declined medical treatment. The ultralight had significant damage," the Anderson County Sheriff's Office press release on the incident reported.

The Federal Aviation Administration and the National Transportation Safety Board were notified and will follow-up on the crash this week.