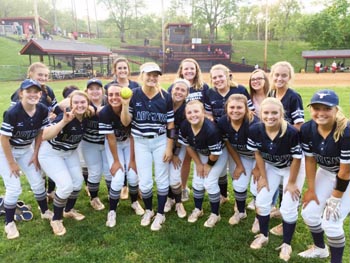 The Anderson County Lady Mavericks routed Oak Ridge in a 20-1 road win on Monday night.

The Lady Mavs reeled off six runs in the first and six more in the second. The Lady Wildcats scored a run in the bottom of the first to make it a 12-1 game.



Anderson County added a run in the third and exploded for seven in the fourth to effectively end the game.

Kelsey Giles got the start and the win as she pitched three innings and allowed no earned runs on one hit with three strikeouts.

Maddie Sickau went 4-5 with two RBI while Mallorie Overton was 2-2 with two doubles and three RBI.

Courtney Lively was 2-2 with a double and three RBI while Molly Muncy was 1-2 with a triple and an RBI.

Gracie Webb was 1-2 with a double and an RBI while Emelia Yelencich was 2-3.

"We hit the ball really well. We hit a lot of line drives and didn't pop the ball up. Even the ones we hit at them they had a hard time fielding," said Allen Russell, head coach of the Lady Mavs.

On Tuesday, the Lady Mavs dropped an 8-4 decision at Gibbs, splitting the regular season series with the Lady Eagles.

After the Lady Mavs took a 1-0 lead in the first, Gibbs scored three in the bottom of the inning. Anderson County responded with a pair of runs in the second courtesy of a monster home run drive deep to left center by Sickau. The blast tied the game at 3-3.

The game remained deadlocked until the fourth when the Lady Mavs inched into a 4-3 lead. The Lady Eagles responded with five in the bottom of the fourth to take the decisive 8-4 lead. Their pitching made the lead stand.

"We played really well. Giles pitched a great game and our defense made some outstanding plays behind her but we had a mistake in the fourth and it just got away from us," Russell said. "Not having Hannah [Bruce] in the there right now takes away our one-two punch with her and Giles."

Bruce is expected to start working her way back into the rotation this week, provided her recovery progresses accordingly.

"I would like to say that the home run by Maddie Sickau was the longest home run I've ever seen hit in girl's softball," he said.

Giles took the loss as she pitched six innings and allowed seven runs on seven hits.

Sickau went 2-4 with a homerun and two RBI while Emilee Fowler was 1-3 with a double. Overton was 1-3 with an RBI.  Yelencich, Lively, Webb, Jada Reeves, and Aundria Long also each had a hit.

The Lady Mavs got back on track Thursday with a 19-2 win at Knox Central.

Anderson County turned it into a blowout quickly as they plated 13 runs in the first inning. Central scored a run but the Lady Mavs responded with three more. They added three more in the third and final inning.

Senior Molly Muncy stepped inside the circle to pitch for the first time since her freshman year and baffled the Lady Bobcats. She allowed one earned run on two hits. At the plate, she was 1-3 with two RBI.

"We asked her [Muncy] on Monday if she would consider pitching and she was excited about it. We let her pitch against Gibbs in a JV game on Tuesday and we won. Her arm was a little sore but she wanted the ball against Central and got the win," Russell said.

Lively led the offense with a 3-3 performance, including a double and an eye-popping six RBI.

Reeves was 3-3 with a double and and RBI while Yelencich was 2-3 with three RBI.

Long was 1-2 with a double and two RBI. Webb was 1-3 with an RBI and Overton was 1-2 with an RBI.

Fowler was 2-3 with an RBI and Sickau was 1-3 with a double and an RBI.

Anderson County will visit Kingston on Thursday at 5:30 p.m. and will end the regular season on Monday at home against Kingston at 5:30 p.m.