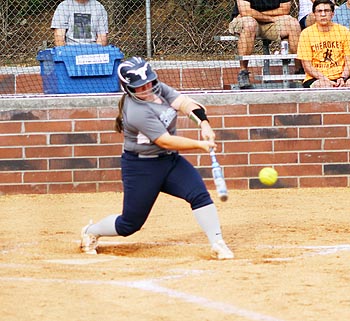 The Anderson County Lady Mavs picked up an historic win as they downed visiting district rival Gibbs by a score of 7-4 Tuesday evening.

After starter Hannah Bruce shut the Lady Eagles down in the first, Anderson County continued the momentum they have been building in recent games.

Maddie Sickau led off with a base hit and Jada Reeves followed with a double. Emelia Yelencich then singled in Sickau. Gracie Webb sacrificed to score Reeves and move Yelencich to second. Molly Muncy then drilled a single to score Yelencich and give the Lady Mavs a 3-0 lead.

The Lady Eagles added a run in the third but Anderson County answered with two in the bottom of the fourth.

Gibbs scored two in the fifth but the Lady Mavs scored two in the sixth.



Gibbs added a run in the top of the sixth.
 Bruce pitched a complete game, going seven innings and allowed four runs on seven hits with two strikeouts.

Muncy was 3-3 with a double, two RBI, and two runs scored. Sickau was 2-3 with two RBI, and a run scored. Webb was 1-2 with a double, an RBI, and a run scored.

Yelencich and Mallorie Overton each added an RBI.

It was the first since 2003 Anderson County beat Gibbs.

"It's a huge win for us mentally. Mentally right now, we're where we need to be. Our girls are so confident they don't care who is in the other dugout, they're ready to play. That's what we've lacked over the past couple of years. We've always had talent but now, mentally we're ready to roll," said Allen Russell, head coach of the Lady Mavs.

On Thursday, The Lady Mavs added another district win as they downed visiting Knox Central by a score of 11-1.

Bruce went three innings en route to the win. Kelsey Giles pitched the last two innings as the two combined to no-hit the Lady Bobcats.

Anderson County scored in the first when Sickau led off with getting hit by a pitch. She then stole second and third. She scored on a sacrifice bunt by Reeves.

The Lady Mavs scored three runs in the second when Courtney Lively led off with a base hit hit and stole second. Bruce then singled and advanced Lively to third. Smith (in as a courtesy runner for Bruce) took second on a wild pitch and Lively scored when Overton grounded out. Sickau singled to score Smith. Sickau later scored on a base hit by Emilee Fowler.

In the third inning, Anderson County blew the game open with six big runs.

Molly Muncy led off with a triple and scored on a base hit by Bruce. Overton then singled and Sickau was hit by a pitch for the second time. Reeves drew a walk to score courtesy runner Smith. Fowler then singled to score Overton and Sickau. Fowler stole second and Yelencich grounded to second to score Reeves. Webb then doubled to left to score Fowler.

The final run for the Lady Mavs came in the fourth when Maci Houser led off with a single and she later scored on an error.

Fowler was 3-3 with three RBI while Webb was 2-3 with a double and an RBI.

Bruce went 2-2 with an RBI and Overton was 1-2 with a double and an RBI.

Sickau was 1-1 with an RBI and three runs scored and Reeves had two RBI.

"I love it. It was good to get such a lead and get our younger girls in to get some work. And it was good to give Hannah [Bruce] a break and let [Kelsey] Giles get some work in," said Russell.

"We hit the ball well with the wind blowing in tonight. We stayed on top of the ball and hit a lot of hard ground balls that found holes. We did what we were supposed to and played good defense. We put pressure on them and it worked out pretty good," he said.

On Friday, Anderson County got a big 3-2 win over cross-region foe Hardin Valley.

The Lady Mavs scored a run in the first and held it until the top of the fourth, when the Lady Hawks tied the game.

Anderson County reclaimed the lead in the bottom of the fifth when they plated a run. Hardin Valley tied the game in the top of the sixth but the Lady Mavs won on a walk-off when Muncy hit a sacrifice fly to score Fowler.

Bruce got the win in relief. She pitched three innings and allowed no runs, no hits, and had three strikeouts.

Yelencich was 2-3 with an RBI while Sickau, Fowler, and Overton each collected two hits.

Muncy finished with two RBI.

On Saturday, the Lady Mavs fell at Powell in a tough 4-1 loss.

The game was scoreless until the top of the fourth when Reeves drew a walk and scored on a double by Webb.

In the bottom of the sixth, the Lady Panthers plated four runs for the win.

Bruce took the loss as she went six innings and allowed four runs on six hits while striking out three.

Webb was 1-3 with a double and an RBI while Sickau and Overton each collected a hit.

The Lady Mavs return to action on Thursday when they host Powell in another huge district game at 5:30 p.m. They host Grace Christian on Monday at 5:30 p.m. and host Karns on Tuesday at 5:30 p.m.