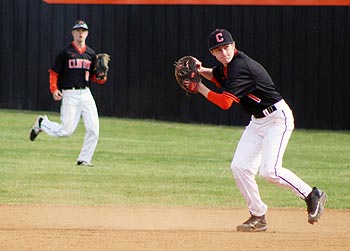 The Clinton Dragons lost at Powell on Tuesday by a score of 10-0.

The Panthers scored five in the first and five in the fifth for the win as the Dragons were held to just one hit — a single by Jackson Duncan — off of Powell starter Stalcup, who struck out seven.

Duncan also got the start and was charged with the loss as he allowed five runs on three hits.

In two games with Powell this season the Dragons have a combined three hits.

"He's a pretty good young pitcher with good stuff but we're just struggling to hit the ball right now," said Matt Byrd, head coach of the Dragons.

Clinton beat visiting Cocke County on Thursday by a score of 5-4.



The Dragons pushed across two runs in the second before Cocke County took the lead with three runs in the top of the fourth. Clinton reclaimed the lead with two runs in the bottom of the inning before Cocke County tied the game at 4-4 in the top of the seventh.

The Dragons won on a walk-off RBI single by Isaiah Murphy.

Austin Kelly got the win in relief. He pitched one inning and allowed no earned runs on three hits.

Clinton only had two hits in the game — the game winner by Murphy and a base hit by Alex Burton, who also scored a run.

Zach Webber had a RBI and twice reached on a walk.

Tyler Davis scored two runs and also walked twice.

"We're not hitting so we just had to get creative and find ways to manufacture some runs. We're just not hitting but we'll keep working and we'll break out of this slump," Byrd said.

On Friday, the Dragons fell at Karns by a score of 10-0 in five innings.

The Beavers scored two in the first and two in the second. They added six in the bottom of the fifth as the Dragons were held to just one hit — a single by Blake Sherwood.

Luke Johnson suffered the loss as he went four innings and gave up nine runs on eight hits with two strikeouts.

"Luke Johnson pitched great it just got away from us late," Byrd said.

The Dragons return to action on Wednesday when they visit Anderson County at 7 p.m. in a game rescheduled from Monday.

They visit Oliver Springs on Thursday at 6 p.m. and host the Bobcats on Friday at 6 p.m. The Dragons travel to Giles County on Saturday for a double-header at 4 p.m. and 6 p.m. They host Sequoyah on Monday at 6 p.m. and visit Lenoir City on Tuesday at 6 p.m.