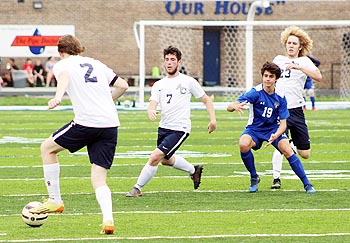 The Clinton Dragons' soccer team had their season opener at McMinn Central on Tuesday.

The Dragons took a 1-0 lead in the first half when senior Tyler Csurny found a loose ball in front of the net and finished. The goal was created when Dragon players put high pressure on the McMinn back line and the ensuing chaos created a turnover which Csurny capitalized on.

Dylan Williams made it 2-0 on a sublime solo effort. The senior All-District player took a pass from Russell Winchester and dribbled past three defenders before cutting back and beating the three players a second time before driving home the goal.

McMinn scored late in the game to cut the lead to 2-1.

The Dragons responded when senior Jevonne Sheppard tracked down a ball played past the McMinn defenders and found Dylan Williams in front of the goal with a nice cross. Williams punched it to make it 3-1.

Nick Meadows and Jordan Nichols combined for a strong effort in goal.



"We are playing a lot of players this season. A lot of guys are contributing. This was a total team effort," said Filip Leander, head coach of the Dragons.

In the JV game, the JV Dragons won 2-0. Talha Asad and Edwin Rivera scored the goals.

In their home opener 24 hours later, the Dragons beat William Blount by a score of 3-2.

The Governers defeated the Dragons 2-0 last season.

This year, Clinton threw an early aggressive attack against William Blount and took a 2-0 first half lead.

Sophomore Dylan Joy scored the first goal of the game off a beautiful pass from Russell Winchester. Joy fought off two defenders and slid the ball past the goalkeeper for his first career goal.

The Dragons turned up the pressure and forced a Governer turnover in front of their own penalty box. Jaxon Edwards scooped it up and found Dylan Williams who dribbled the goalkeeper before finishing off the goal, giving Clinton a 2-0 lead.

William Blount roared back and began launching attack after attack at the Clinton goal. They tied the game up on a pair of goals and the Dragons found themselves reeling.

Sheppard struck again with late game heroics. The Dragons went back to a high-pressure attack and Sheppard won a ball 20 yards from goal. He tapped it to Williams who rifled home the game winner.

"The seniors wanted this one badly. Guys like Nick Sellers and Jaxon Edwards put it all on the line. They felt like last year we didn't play our best against William Blount and they had been looking forward to another chance," Leander noted.

The Anderson County Mavericks dropped a couple of home games last week.

On Tuesday, the Mavericks fell to visiting Oak Ridge by a score of 6-3.

Karns defeated Anderson County on Thursday by a score of 4-2 in another hard fought district contest.

"We're taking the losses but we are having more success in the games than we did last year. It's a slow build but we are coming along. They [the team] just have to keep listening and improving," said Ron Roskelly, head coach of the Mavericks.

Anderson County will host Gibbs on Thursday at 6 p.m. and host Halls on Tuesday, also at 6 p.m.

On Friday, the Dragons travel to Seiver County High School to play Maryville Christian at 8 p.m. On Saturday they remain at Sevier County where they will play East Robertson at 10:50 a.m. Also on Saturrday, they will play Madison County, Ala. at Gatlinburg Pittman at 6:10 p.m.

The Dragons come home on Monday to host Scott at 6 p.m.