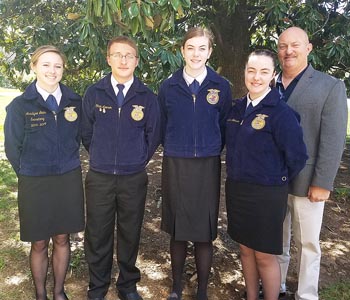 Anderson County FFA won first place in the 2017 Tennessee FFA State Food Science and Technology contest.

Annalyse Leach was the second High Scoring Individual overall in Tennessee.



Emma Johnson was third High Individual in Tennessee.

Emily Sparks was fourth High Individual in Tennessee.

Ethan Lawson was fifth High Individual in Tennessee.

The Food Science and Technology CDE requires students to have an in-depth understanding of food product development and presentation, and food safety issues. Participants use their sensory skills to solve problems and make sound decisions. They will compete for the National Title the last week of October.

This is the third time in four years that the Anderson County FFA has won this FFA contest with different students each year.